Ramsell & Associates, LLC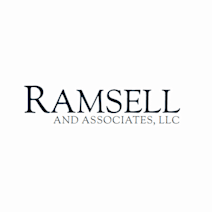 Criminal Defense | Serving Wheaton, IL
Clients who need legal help with Criminal Defense concerns can contact Ramsell & Associates, LLC, a reputable law firm in Wheaton, Illinois.
Average Experience:
30 years
Defending You Against DUI and Criminal Charges
If you face charges of driving under the influence (DUI) of alcohol or drugs, or another criminal charge, it is natural to be anxious about losing your license, paying large fines, disrupting your relationships and your career, or even spending time in jail.
Any criminal charge is a serious issue that calls for a serious solution. After an arrest, it is important to speak with an experienced criminal defense attorney as soon as possible.
The experienced criminal defense attorneys at Ramsell and Associates, LLC, are here to help. Our firm has been handling DUI cases and other criminal matters throughout Illinois since 1986. We know the law, we know the local courts and we know how to help our clients reach favorable outcomes.
Contact us today if you need legal assistance with any of the following:
DUI Charges
DUI Accidents
Sobriety Tests
Drivers License Reinstatement
DUI Penalties
DUI And Drugs
Illinois DUI Laws
Illinois DUI Defense
Illinois Criminal Defense
Ramsell and Associates, LLC, is a full-service firm with a proven track record of providing aggressive, strategic legal representation. As your attorneys, we will provide support and practical advice when you need it. We will answer your questions when they arise. We will make sure your rights are protected.
If you need a criminal defense lawyer in DuPage County or anywhere in Illinois, call 630-665-8780 to arrange your free initial consultation.
Attorney Donald J. Ramsell
Bar Admissions:
U.S. Supreme Court, 1989
U.S. Court of Appeals 7th Circuit, 1986
U.S. District Court Northern District of Illinois, 1985
Supreme Court of Illinois, 1984
Certifications:
Board Certified in DUI Defense, NCDD/ABA Standards, January 2005
National Highway and Traffic Safety Administration Field Sobriety Student Course, San Francisco, California
National Highway and Traffic Safety Administration Field Sobriety
Instructor Course, Nashville, Tennessee
Education:
DePaul University College of Law, Chicago, Illinois
Loyola University

B.S. - 1981
Major: Criminal Justice
Professional Memberships and Achievements:
National College For DUI Defense, Regent, 2010-present
Illinois Association of Criminal Defense Lawyers, Board of Directors, 2012-present
Illinois Association of Criminal Defense Lawyers, Chairperson, DUI Committee, 2010-2011
DuPage County Bar Association, President, 2002-2003
National College for DUI Defense, State Delegate, 2005-2010
DuPage County Criminal Defense Lawyers Association, President, 2000-2001
ISBA Assembly Member, 2004-2010
Chair, Judiciary Committee, DuPage County Bar Association, 2003-2004
Chair, ISBA Traffic Law & Courts Section Council, 2004-2005
Vice-Chair, ISBA Traffic Law & Courts Section Council, 2003-2004
Delegate, American Bar Association, 2002-2003
President-Elect, DuPage County Bar Association, 2001-2002
Planning Committee Chairperson, DuPage County Bar Association, 2001-2002
Second Vice President, DuPage County Bar Association, 2000-2001
Member, Mental Health Court Committee, DuPage County Health Department, 2000-2001
Third Vice President, DuPage County Bar Association, 1999-2000
Chair, Lawyer Referral Service Committee, DBCA, 1999-2000
Chair, Membership Committee, DuPage County Bar Association, 1999-2000
Director, DuPage County Bar Association, 1998-1999
Chair, Entertainment Committee, DuPage County Bar Association, 1998-1999
Member, Traffic Laws & Courts Section Council, ISBA, 1997-2013, 2014-present
Member, Criminal Law Committee, ISBA, 2016-present
Member, Sentencing and Laws, ISBA, 2016-present
Chair, Judges' Nite, DuPage County Bar Association, 1996-1997
Member, DCBA Judiciary Committee, 1994-1996, 2010-2012, 2016-present
National Association of Bar Presidents
National Association of Criminal Defense Lawyers, Present
National College for DUI Defense, 2001 - present
Illinois State Bar Association, 1984 - present
DuPage County Bar Association, 1986 - present
Kane County Bar Association, 1986 - present
Northwest Suburban Bar Association
Association of Trial Lawyers of America
Illinois Trial Lawyers Association
American Bar Association
American Academy of Forensic Sciences, 2011 - present
Illinois Association Criminal Defense Lawyers, 2012-present
DuPage County Criminal Defense Lawyers, 2008-present
---
Attorney Jason Michael Kunowski
Bar Admissions:
Illinois, 2010
U.S. District Court Northern District of Illinois, 2010
Education:
Northern Illinois University College of Law, DeKalb, Illinois
University of Wisconsin-Madison, Madison, Wisconsin

B.A. - 2005
Major: Political Science, Legal Studies
Professional Memberships and Achievements:
DuPage County Bar Association, Member, 2016 to Present
Illinois Association of Criminal Defense Lawyers, Member, 2016
Languages Spoken:
---
Attorney Peter O'Connor
Bar Admissions:
Illinois, 2015
U.S. District Court Northern District of Illinois, 2015
Education:
John Marshall Law School, Chicago, Illinois
University of Illinois, Chicago, Illinois

B.A. - 2009
Major: English

Purdue University Calumet
Professional Memberships and Achievements:
Illinois State Bar Association, 2015 to 2016
DuPage County Criminal Defense Lawyer Association, 2016
DuPage County Bar Association
---
Attorney Victor Groszko
Bar Admissions:
Illinois, 2008
District of Columbia, 2009
U.S. Tax Court, 2008
U.S. Court of International Trade, 2016
Education:
Thomas M. Cooley Law School, Lansing, Michigan
University of Illinois at Urbana-Champaign

Major: Business Communication

DePaul University, Kellstadt Graduate School of Business, Chicago, Illinois
University of Illinois at Springfield
Professional Memberships and Achievements:
Chicago Bar Association
DuPage County Bar Association
National College for DUI Defense
Illinois State Bar Association
Ukrainian American Bar Association
Advocates Society – The Association of Polish-American Attorneys
First Defense Legal Aid
New Americans Immigration Initiative
Illinois Lawyer's Assistance Program