« Back to Results
Law Office of Stephen L. Richards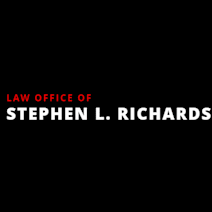 Choose a Defense Lawyer for an Aggressive Defense
When you are facing state or federal criminal charges, contact Attorney Stephen L. Richards. His background includes over 75 felony jury trials, hundreds of bench trials and effective negotiations in thousands of other cases.
On a case-by-case basis Mr. Richards has the resources to evaluate all documents, forensic evidence and other relevant materials. This ability gives him the tools to handle high-stake, complex cases. He is an experienced criminal defense attorney who pays close attention to his clients accounting of the situation and occurrences that led up to their arrest. He provides clear, honest guidance to clients and their families.
Contact Law Office of Stephen L. Richards today if you need legal assistance with any of the following:
White Collar Crimes

Embezzlement
Identity theft
Internet crimes
Racketeering (RICO) violations
Money Laundering
Mortgage Fraud
Fraud

Post Conviction

Appeals
Sentencing Mitigation
Expungements
Pardons

Serious Felonies

Theft
Robbery
Burglary
Shoplifting
Drug charges
Weapons Violations
DUI defense
Sex crimes
Murder defense
Juvenile criminal
defense
Call Law Office of Stephen L. Richards today at 312-724-6324 to arrange your freeinitial consultation.
Attorney Profile
Attorney Stephen L Richards
Jurisdictions:
Illinois, 1985
U.S. District Court Northern District of Illinois, 2008
Certified Legal Specialities:
Certified Lead Counsel, Capital Litigation Trial Bar, Illinois Supreme Court, 2001
Education:
Brooklyn Law School, Brooklyn, New York

J.D. - 1983
Honors: Order of Barristers, Moot Court

University of Chicago, Chicago, Illinois

B.A.
Honors: With Honors
Major: History
Professional Memberships and Achievements:
Illinois State Bar Association
Illinois Public Defender Association, President, 2006 - 2008
Illinois Public Defender Association, Board Member, 2000 - Present

Kutak-Dodds Award, Defender Prize, National Legal Aid and Defender Association

, 2003
Super Lawyer Rated
AVVO Rating 10 out of 10 - Supurb
Notable Victories
People v. Anthony Johnson
After Anthony Johnson had twice been convicted of first degree murder based on accountability and had served ten years in the penitentiary, Stephen L. Richards won a straight reversal of his conviction and he was exonerated and released. Anthony Johnson's case is listed on the national registry of exonerations.
People v. Encarnacion Torres
After Encarnacion Torres was convicted of first degree murder, Stephen L. Richards won a reversal of his conviction in the Illinois Supreme Court based upon a violation of Encarnacion Torres's right to confront his accusers. On remand, the State dropped all charges and Encarnacion Torres was released.
People v. Leroy McFadden
In a jury trial, where he was represented by Stephen L. Richards, Leroy McFadden was acquitted of first degree murder and attempt armed robbery and released from custody.
People v. Corey Campbell
At a jury trial where Corey Campbell was positively identified by the alleged victim, Stephen L. Richards won Corey Campbell an acquittal for charges of attempt first degree murder and aggravated battery, Corey Campbell was released.
People v. Jerry Partee
After being caught with a gun and a Super-X quantity of drugs in his pocket, Stephen L. Richards won Jerry Partee an acquittal for Super-X charge of possession with intent to deliver cocaine and heroin.
People v. Dorian Thompson
In a jury trial where Dorian Thompson was charged with conspiracy to distribute narcotics carrying a sentence of life in prison, Stephen L. Richards won a judgment of acquittal.