« Back to Results
Aherin, Rice & Anegon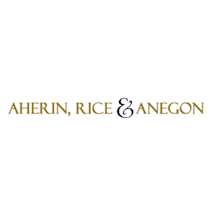 The Knowledge, Experience and Determination You Need in Your Corner
For many years, the firm of Aherin, Rice & Anegon has been a respected name in the field of law. The firm is a full service law firm which provides its clients the assurance of honest, dependable, dedicated and successful legal representation. Over the years, the firm has gained the respect of its colleagues, opponents and the community for their abilities, knowledge and success. The firm has received an "AV" rating from Martindale-Hubbell, which is the highest possible national rating given by them. This rating is derived through confidential assessments given by practicing peer lawyers and judges. Martindale-Hubbell has not only conferred the highest attainable legal ability ratings upon this office, it has also given this firm the highest marks for adherence to professional standards of conduct, ethics, reliability and diligence.
Our goal is always to assist individuals and small businesses in being heard within the framework of our legal system. The firm adheres to the basic principle that an attorney's role is to assist people in resolving disputes. We advocate the right of our clients' matters to be heard by a jury of their peers. Winning lawsuits requires skill, experience, effort and resources. We pride ourselves on our ability to give our clients the best possible representation through our extensive years of experience and continuing education and the use of our efficient support staff and many outside resources which enables us to handle even the most complex cases.
Contact us today if you need legal assistance with any of the following:
Personal Injury -- Plaintiff
Motor Vehicle Accidents
Wrongful Death
Slip and Fall
Toxic Materials Exposure
Defective Products
Catastrophic Injuries
Worker's Compensation Law
Construction Site Accidents
Estate Planning
Wills
Probate & Estate Administration
Probate Avoidance
Intervivos Trusts
Testamentary Trusts
Call Aherin, Rice & Anegon today at 208-746-3646 to arrange your free initial consultation.
Attorney Darrel W. Aherin
Admitted To The Bar:
Idaho, 1973
U.S. Court of Appeals 9th Circuit, 1980
U.S. Federal Court, 1973
U.S. Supreme Court, 1980
U.S. Tax Court, 1982
U.S. Court of Federal Claims, 1983
Education:
University of Idaho College of Law, Moscow, Idaho, 1973
Professional Memberships and Achievements:
State Bar Association of Idaho
---
Attorney Stephen C. Rice
Admitted To The Bar:
Idaho, 1975
U.S. Court of Appeals 9th Circuit, 1982
U.S. Federal Court, 1975
U.S. Supreme Court, 1988
U.S. Tax Court, 1982
U.S. Court of Federal Claims, 1983
Education:
University of Idaho College of Law, Moscow, Idaho, 1975
Idaho State University, Pocatello, Idaho, 1969
Professional Memberships and Achievements:
State Bar Association of Idaho
---
Attorney Anthony C. Anegon
Admitted To The Bar:
Idaho, 1982
U.S. Court of Appeals 9th Circuit, 1987
U.S. Federal Court, 1982
U.S. Supreme Court, 1988
U.S. Tax Court, 1982
U.S. Court of Federal Claims, 1984
Education:
University of Idaho College of Law, Moscow, Idaho, 1982
Professional Memberships and Achievements:
State Bar Association of Idaho