The Lewin Law Firm, PLLC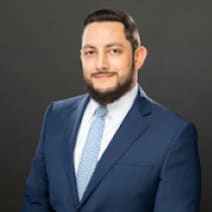 Criminal Defense | Serving West Palm Beach, FL
The Lewin Law Firm, PLLC, a local Criminal Defense firm with years of experience helping clients in the West Palm Beach, Florida area.
Average Experience:
9 years
Defining Excellence In Criminal Defense For Clients In West Palm Beach.
Hiring a criminal defense attorney is not something most of us want to think about. But if you have been charged with a crime, you need to hire an attorney who can fight for your freedom — and win.
Daniel Lewin, the founder of Lewin Law Firm, PLLC, spent years as a public defender, as well as serving as a criminal defense attorney for a private law firm. He provides honest answers to your most pressing questions about your case. He digs deep into the specific details of your case, finding flaws in the prosecution's work and searching for options for the best outcome possible for you.
Contact us today if you need legal assistance with any of the following: 
DUI/DWI charges
Violent crimes
Gun charges
Drug crimes 
Sex crimes
Call 561-710-2819 today to arrange your free initial consultation. 
­­­Attorney Daniel Lewin
Daniel is a licensed Florida attorney with years of criminal defense experience, first as a public defender and then as a private defense attorney. Throughout the years, he has represented clients charged with traffic tickets, misdemeanors, and serious felonies. Daniel has consulted people on cases as simple as driving under the influence and as complex as murder. Now he has started his own law firm to provide you with quality criminal defense services at an affordable price.
Daniel was born in Miami and raised with a strong respect and appreciation for our unique freedoms and the danger that an accusation from the police or government poses to them. He went to college at the University of Tampa where he studied political science, government and world affairs, and business administration & management. From there, Daniel went to law school at Nova Southeastern University in Fort Lauderdale and graduated in the top 25% of his class. He took every criminal related law class he could because he knew right away he wanted to defend individuals and fight abuses of power. Daniel worked for private criminal defense law firms and government organizations in Fort Lauderdale while in law school.
Daniel took a job at the Palm Beach County Public Defender's Office and litigated cases there for 4.5 years, first as an intern in law school, then in the misdemeanor and criminal traffic division as an assistant public defender, all the way up to being an attorney in the felony division handling serious cases for clients facing multiple decades in prison. Daniel left the public defender's office to be a private criminal defense attorney in Key West. He represented clients charged with a range of serious offenses including but not limited to robbery, sexual battery, and driving under the influence causing serious bodily injury.
Education: 
Nova Southeastern University Shepard Broad Law Center, Ft. Lauderdale, Florida

Juris Doctor
Honors: Top 25% of his class

University of Tampa

B.S., Bachelor of Science
Major: Political Science, Government and World Affairs, and Business Administration & Management
Professional Memberships and Achievements: 
Florida Bar, Member
National Association of Criminal Defense Attorneys
Florida Association of Criminal Defense Attorneys
Palm Beach Association Criminal Defense Lawyers
Mr. Lewin has ultimately saved my life. He has helped me turn my life around, I couldn't be more grateful. Mr. Lewin has worked with my family financially and has done more for me than any other lawyer or public defender ever could.I owe everything to mr. Lewin. I highly recommend him for any case because of his dependability and diligence. He also got back to me every time within an hour or two. I TRUST mr. Lewin with my case & life. – A.L.
---
Daniel Lewin was an overall awesome lawyer! He took care of the case efficiently as well as answered all of my millions of questions and was very reassuring, I would highly recommend him! – V.S.
---
★★★★★ Mr. Lewin was great from the start. He was attentive, responsive, and his overall confidence was stellar. He stayed in contact with us through the whole process and the outcome was exactly what we had expected from the start. I hope I never HAVE to use Daniel again, but if I ever need another lawyer for ANY reason, I definitely wouldn't hesitate to call him again. – A. J.
---
★★★★★ This is the best law firm that there is…Daniel is very compassionate…He makes sure that he works the case as best as he could and will answer the phone almost every time that I call…He is very understanding and is doing a great job with my brothers case and I really appreciate all that he's done for me and my family. – J. P.
---
★★★★★ Daniel Lewin is a competent voice of reason amidst my serious predicament with the Florida judicial system. He was able to negotiate a resolution that was satisfactory considering that Floridas system is unfair. I feel that he truly had my best interest in mind. He explained my options thoroughly and I am very happy with his service. I'm not so happy with Florida and most of you probably understand why. The bottom line is that Daniel is very professional and I highly recommend his services. – C.M.
---
★★★★★ Daniel Lewin is an excellent Lawyer and I could not be happier with his services. He promptly answered all of my questions and concerns and put my mind at ease. The whole process was extremely efficient from beginning to end. I would most definitely use his services again. A truly professional Lawyer. – Edwin
---
★★★★★ I'm so thankful to have been referred to Daniel, he was always very easy to talk to, professional and very knowledgeable about the whole process. He assisted my husband on a traffic offense for expired license for more than 6months. I would refer Daniel a 100%, he always answered phone calls and messages on time to just give us reassurance and a piece of mind. By the way, our case outcome was just as he had said it would be from the beginning. – K. G.
Since 1997, the "Lead Counsel Verified" status has been granted to attorneys who possess:

The Right Professional Experience
A Spotless Record
The following attorneys at this firm are Lead Counsel Verified:
Daniel Lewin
This attorney is Lead Counsel Verified in the following practice areas:
| Practice Area | Year |
| --- | --- |
| Criminal Defense | Since 2021 |
| Practice Area | Year |
| --- | --- |
| Criminal Defense | Since 2021 |
For Attorneys:
Download Lead Counsel Badge