Competent Legal Representation
If you're going through divorce or adoption, dealing with paternity or nuptial agreements, you likely have serious questions about what's involved and how you can be certain of getting the right result. If you've been arrested and charged with a crime, from DUI or theft to sexual assault or drug trafficking, you understandably have legitimate concerns about your future and what steps you can take to get the most positive outcome in your situation.
Whatever your legal concerns, bring them to the Port St. Lucie law office of Baginski Brandt & Brandt. Our goal is to make you feel safe and calm, knowing you have found attorneys with the knowledge, skills and experience to help you with your most pressing, complex or high-stakes legal needs. Our Port St. Lucie family & criminal attorneys are committed to understanding your situation and guiding you to the best possible result that you can be happy with. For high-quality legal advice and representation with family law or criminal law matters in St. Lucie and Martin counties, look no further than the law offices of Baginski Brandt & Brandt.
Contact us today if you need legal assistance with any of the following: 
Criminal Defense

Drug Crimes
Drug Cоurt
DUI
Felonies
Forfeiture
Juvenile Offenses
Misdemeanors
Prison Release Re-Offender
Probation
Repeat Offenders
Sex Crimes
Traffic Offenses
White Collar Crimes
Weapon Offenses

Family Law

Divorce
Alimony
Contested Vs. Uncontested Divorce
Divorce Orders Enforcement
Division of Assets
Divorce Mediation
Child Custody
Child Support
Child Time-Sharing
Dissolution
Financial Affidavit
High-Net-Worth Divorce
International Divorce
Judgment Modifications
Relocation
Spousal Support
Adoption
Annulment
Domestic Violence
Nuptial Agreements
Paternity 

Personal Injury

Automobile Accidents
Slip and Fall
Wrongful Death
Negligence
Insurance Companies
Call 772-202-9925 today to arrange your free initial consultation. 
Attorney Arthur B. Brandt
Arthur Brandt has been a partner and owner of his own firm since the year 2000. Mr. Brandt graduated from The University of Miami School of Law in Coral Gables. He has been a member of the Florida Bar since 1997 and has been a member of both the United States District Courts for the Southern and Middle Districts. Mr. Brandt is also a graduate of The American University in Washington D.C., having earned his undergraduate degree in Communications, Legal Institutions, Economics and Government. While in Washington D.C. Mr. Brandt worked for Congressman Chuck Douglas, a former member of the New Hampshire Supreme Court and with Senator Connie Mack of Florida. Mr. Brandt is also an alumni Member of the Sigma Alpha Rho Fraternity International. Mr. Brandt's practice is primarily devoted to criminal defense and family law. He has been lead counsel in over 50 jury trials throughout the State of Florida. Mr. Brandt is an active member of the Florida Association of Criminal Defense Attorneys, the National Association of Criminal Defense Attorneys, and the St. Lucie County Association of Criminal Defense Lawyers where he is a past President. He is also a proud member of  "The National Trial Lawyers: Top 100".
Mr. Brandt's has been active throughout the community. As President of the St. Lucie County Association of Criminal Defense Lawyers, Mr. Brandt led an aggressive and successful campaign to have the courts recognize that defendants can waive their appearance for certain court events in the 19th Circuit of Florida. For many years, defendants in the circuit were forced to miss work, school and family obligations merely to appear and receive a new court date. He is recognized as a leader in the legal community and an aggressive advocate for his clients in the courtroom.
Mr. Brandt's involvement with the community and his commitment to education in Martin County is also longstanding. For the past several years, Mr. Brandt has been a sponsor of the Martin County Education Foundation helping raise thousands of our students and teachers in Martin County Public Schools. He has sponsored the teachers of the year in both Stuart Middle School and Hidden Oaks Middle School. Mr. Brandt has also been a guest speaker at many of the schools in the community. Working with students to understand, respect and value our Constitution is one of the favorite things to do for Mr. Brandt.
---
Attorney Julia G. Baginski Brandt
Attorney Julia Baginski Brandt has handled thousands of criminal cases and is very successful in both jury and bench trials. She is devoted to protecting the rights of the accused, and always strives for excellence. Prior to opening her own private practice in 2007, she was an Assistant Public Defender for two of Florida's Judicial Circuits. Ms. Baginski also enjoys helping her clients who become injured to be compensated and treated fairly. Being originally from Chicago, Illinois, and then traveling extensively due to her mother's position in the U.S. Navy, Ms. Baginski has a unique background that she brings to the Treasure Coast. She is able to blend compassion and a strong work ethic to advocate effectively for her clients. With a passion for criminal and juvenile law, Julia Baginski is the criminal defense lawyer you want on your side. If you are looking for legal help, call (772) 301-1141.
Education
Juris Doctor, Stetson University College of Law
Victor O. Wehle Award for Excellence in Trial Advocacy Paul Barnard Award for Clinic Excellence
B.A., University of Florida
Professional & Bar Association Memberships
Florida Association of Criminal Defense Lawyers
St. Lucie County Association of Criminal Defense Lawyers President – 2008/2009, 2017/2018
St. Lucie County Bar Association Florida Bar
Organizations
National Trial Lawyers, 2014 to present
Florida Association of Criminal Defense Lawyers, 2005 to present
St. Lucie County Association of Criminal Defense Lawyers (President 2008-2009, 2007-2018 to present)
Florida Association for Women Lawyers at Stetson (President 2003-2004)
---
Attorney Stephanie McEnery
Stephanie McEnery graduated from William and Mary Law School, the oldest law school in the country. Ms. McEnery is also a graduate of the University of Florida. Ms. McEnery lives and breathes for the courtroom. As an experienced trial attorney, Stephanie is not afraid to confront the prosecutors and press her client's cases for a successful outcome no matter the odds. Growing up in South Florida, Stephanie is bilingual, having spoken Spanish since her youth. Prior to entering private practice, Ms. McEnery was an Assistant Public Defender and a private attorney in the Ninth Judicial Circuit in Orlando. In her last month as Public Defender she was acclaimed for getting over 30 cases dismissed in a single month, including 8 DUI's in a row. Ms. McEnery has successfully litigated numerous motions resulting in the dismissal of criminal charges for her clients. Additionally, Ms. McEnery has suppressed Blood Alcohol Content results, confessions, field sobriety exercises, and breath test results. Stephanie McEnery is dedicated to her clients and passionate about fighting for your rights!
Since 1997, the "Lead Counsel Verified" status has been granted to attorneys who possess:

The Right Professional Experience
A Spotless Record
The following attorneys at this firm are Lead Counsel Verified: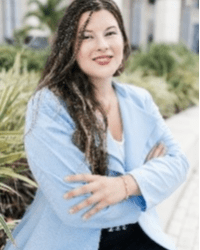 Stephanie McEnery
This attorney is Lead Counsel Verified in the following practice areas:
| Practice Area | Year |
| --- | --- |
| Criminal Defense | Since 2021 |
| Practice Area | Year |
| --- | --- |
| Criminal Defense | Since 2021 |
For Attorneys:
Download Lead Counsel Badge