« Back to Results
TrialPro, P.A.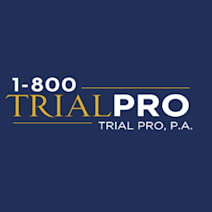 Commitment to Hard Work, Excellence, and Integrity
After a serious crash, wreck, or other injury-causing incident, victims and their loved ones are often faced with significant bills and an uncertain future. During this time, the attorneys and staff at Trial Pro, P.A. strive to offer dependable legal guidance and representation that advocates for the best possible outcome on each client's behalf.
Our knowledgeable Orlando personal injury attorney team has a history of successfully pressuring our defendants into settling a majority of our cases for maximum compensation, without a trial. As a firm, Trial Pro, P.A. is client-centered. We take great pride in being a trusted choice for victims of personal injury throughout Florida and work to maintain our track record of success. We take a proactive stance on each of our clients' cases and leave no stone unturned in our pursuit of justice on their behalf.
Contact us today if you need legal assistance with any of the following:
Personal Injury
Personal Injury
Car Accidents
Trucking Accidents
Premise Liability
Wrongful Death
Construction Accidents
Medical Malpractice
Workers Compensation
Social Security Disability
Call Trial Pro, P.A. today at 407-300-0000 to arrange your free initial consultation.
Attorney Piercy Stakelum
Jurisdictions:
Florida
Florida Public Service Commission
Southern District of Florida Trial Bar
U.S. Bankruptcy Court Middle District of Florida
U.S. Bankruptcy Court Middle Florida
U.S. Bankruptcy Court Northern District of Florida
Education:
University of Florida College of Law
Florida State University
Orlando Office
250 North Orange Avenue 14th Floor
Orlando, FL 32801
Fort Myers Office
9341 Marketplace Road
Fort Myers, FL 33912
Naples Office
1019 Crosspointe Drive Suite 1
Naples, FL 34110