« Back to Results
Law Office of Craig Gibbs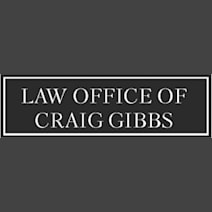 Personal Injury | Serving Jacksonville, FL
In the Jacksonville, Florida area, Law Office of Craig Gibbs can help you resolve your Personal Injury issues.
Average Experience:
36 years
Experienced Injury Lawyer
Our law firm, Craig Gibbs Law, specializes in personal injury law.  It is all we do. We handle the following types of cases: car wrecks, truck wrecks, motorcycle crashes, crashes caused by DUI drivers, job injuries, wrongful death, workers compensation, medical malpractice, nursing home malpractice and abuse, prescription drug errors, birth injuries, defective product injuries, slip and falls and much more. If you were hurt because of someone's negligence or carelessness, call us now. Mr. Gibbs has years of experience fighting insurance companies and he will use that experience to get you the compensation you deserve. Best of all, all consultations are free and you pay no fees unless we win your case!
Contact us today if you need legal assistance with any of the following: 
Home
Practice Areas
Auto Accidents
Work Injury
Medical Malpractice
Personal Injury
Slip & Fall Injury
Bicycle Accident Injury
Boating Accident Injury
Florida Dog Bite Injury
Bus Accident Injury
Motorcycle Accidents
Wrongful Death
Trucking Accidents
Call 904-396-4499 today to arrange your free initial consultation. 
Attorney Craig A. Gibbs
Craig A. Gibbs is a shareholder in the Law Office of Craig Gibbs. He received his J.D. degree from Case Western Reserve University in Cleveland, Ohio, in 1976. From 1969 to 1973, Mr. Gibbs attended Case Western Reserve University and the University of Lancaster in Lancaster, England, earning a Bachelor of Arts degree and a standing on the Dean's List. Currently, he concentrates his practice in the areas of personal injury and workers' compensation.
Craig Gibbs was admitted to the Florida Bar in 1987 and has been appointed to many bar committees, including service on the Trial Lawyers Executive Counsel, the Member Benefit Committee, and the Workers' Compensation Rules Committee. He was most recently appointed to serve on the Bar Rules of Judicial Administration Committee. He has been a member of the D.W. Perkins Bar Association since 1987, serving as president in 1997–1998. Mr. Gibbs is also a member of the Virgil Hawkins Florida Chapter of the National Bar Association, where he served as Vice President in 1998–1999 and President in 2000–2001. Attorney Gibbs also serves on the board of the Florida Lawyers Mutual Insurance Company. He is a also a member of the Association of Trial Lawyers of America and the Academy of Florida Trial Lawyers, the Jacksonville Bar Association and the American Bar Association, and he is a life member of the National Bar Association.
---
Attorney Alexandra Compere
Alexandra Compere is a lawyer new to the Law Office of Craig Gibbs in Jacksonville, Florida. She focuses primarily in the practice of personal injury law. In 2017, Alexandra received her Juris Doctor degree from Florida Coastal School of Law and was admitted into the Florida Bar. She earned her Bachelor's degree from the University of North Florida in 2014.
During her time at Florida Coastal School of Law, Alexandra earned a position on the Moot Court Honor Board through her display of exemplary oral advocacy and writing skills. The Honor Board travels nationally to compete at the highest levels of appellate advocacy. She represented the institution on five competitions from Seattle, Washington to Orlando, Florida. She even had the honor of representing Florida Coastal at the Andrews Kurth Moot Court National Championship!
Born and raised just outside of Jacksonville, she is ready to serve her community. Alexandra makes you feel like the only person in the room even when you're in a crowd. If you have any concerns about your case, she will take the time to talk to you and give you an honest assessment of where things stand!