« Back to Results
Justice Tax, LLC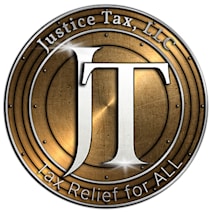 Tax | Serving Jacksonville, FL
Connect with a proven Jacksonville, Florida law firm with experience helping clients with Tax issues.
Average Experience:
37 years
A Home Without Tax Problems — Present and Future
At Justice Tax, LLC, our dream is to provide each client with the Truth, Justice, and Liberty that is an innate human right, but one that is often left to the wayside.  With the help of our innovative industry-leading technology, IRIS, we desire to bring about a new phase in the tax relief industry — one centered on integrity and a people-first mentality. 
We are committed to freeing all taxpayers from their financial burdens and bringing true justice to tax. With the pillars of the foundation of our core principals in mind, we will bring each client into the fold with Truth, Justice, and Liberty.
Contact us today if you need legal assistance with any of the following:
Unfiled Tax Returns
State Tax Issues
Tax Preparation Issues
Wage Garnishment
Bank Levies
IRS Tax Liens
Call 888-545-6007 today to arrange your free initial consultation.