« Back to Results
Boyers Law Group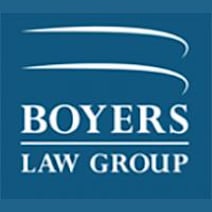 Personal Injury | Serving Jacksonville, FL
Practical Personal Injury legal help. Representing Jacksonville, Florida clients.
Average Experience:
24 years
$100 Million+ Won for Injury Victims
Boyers Law Group is a Florida trial firm that is committed to the relentless pursuit of justice on behalf of individuals and families who suffer from serious and debilitating injuries or the death of a loved one due to the negligent or harmful conduct of others. The Boyers firm consistently devotes its team's ample experience, legal skill and resources to every case and every client. Our Miami personal injury lawyers have a long track record of success in holding wrongdoers accountable for their hurtful conduct while also obtaining many millions of dollars in compensation for the injuries and losses suffered by our clients.
Contact us today if you need legal assistance with any of the following: 
Personal Injury
Medical Malpractice
Car Accidents
Wrongful Death
Premises Liability
Product Liability
Negligent Security
Nursing Home Negligence
Cruise Line Negligence
Call 305-512-7600 today to arrange your free initial consultation. 
­­­Attorney Robert Boyers
Robert Boyers is the founding shareholder and managing partner of Boyers Law Group, P.A. and, for more than 20 years, has successfully represented clients throughout Florida in cases involving medical malpractice, catastrophic personal injury, products liability and wrongful death.  He has won many millions of dollars in awards for his clients, is AV Preeminent rated by Martindale-Hubbell (the highest rating possible for legal skill and ethical standards), has been named a Top 100 Trial Lawyer and has repeatedly been named one of the Best Lawyers in America in the fields of Plaintiffs' Personal Injury and Medical Malpractice for 2021.  
Boyers is a 1990 graduate of the Emory University Law School and originally honed his trial skills as an Assistant District Attorney in Queens County, New York and as a trial lawyer for a major Manhattan personal injury law firm.  Mr. Boyers was also appointed and served as a Special Prosecutor in Brooklyn, New York.  He is a Past-President of the Miami Dade County Trial Lawyers Association. Rob Boyers has been interviewed about his high-profile cases and consulted as an expert legal analyst by national and local news networks and has written and lectured extensively on civil trial matters.
---
Attorney Matthew Mazzarella
As a partner and trial attorney at Boyers Law Group, P.A., Matthew Mazzarella has garnered millions of dollars in awards for injured clients in catastrophic personal injury, medical malpractice, wrongful death, negligent security and premises liability cases.
Mr. Mazzarella is rated AV Preeminent – the highest rating for legal skill and excellence – in the Martindale-Hubbell Legal Directory.  He is consistently recognized as a Rising Star in the Florida Super Lawyers Magazine and was named a Top 40 Under 40 Lawyer in South Florida. Prior to joining Boyers Law Group, Mr. Mazzarella practiced complex litigation with an emphasis on commercial torts and product liability issues at a boutique firm in downtown Miami. He has experience representing plaintiffs and defendants in Federal and State courts throughout the country.
You are in the Best Hands with Robert Boyers
Robert Boyers was recommended to me to handle my slip and fall case. I will be forever grateful to Robert for allowing me to feel that I was in the 'best possible hands' throughout the process through and including the settlement of the case. Robert's expertise, professionalism, and compassion were beyond what I observed in the legal field. And, his associate and staff were a fine reflection of Robert's guidance. Robert was always available to answer any questions or concerns I had. A unique and very valuable characteristic Robert displayed was realizing almost intuitively when I wasn't quite sure I understood an issue in the case. Picking up on my doubt, he would explain things until I was at peace. As busy a person as I am at work, I value this trait in Robert and I hope he knows he possesses the ability to bring peace of mind to his clients. The outcome of the case was totally pleasing to me – the result of Robert's and his staff's constant concern for their client's well-being, their professionalism, skill and respect for the profession itself.   - Rhonda  
---
Highly Recommended
Robert has indispensable qualities of a great lawyer. He is incredibly articulate, tenacious, and confident. Most importantly, he is compassionate and extremely attentive. He is genuine and made me feel cared for. He not only got me great results but has become a good friend as well. I couldn't ask for more.   -Anonymous  
---
Best Attorney Ever!!
I hired Mr. Robert Boyers for a wrongful death case involving my father. I wasn't sure what to do until I met Mr. Boyers. I can say honestly from my heart that I'm very thankful I met this attorney. Losing a father and feeling lost is the worst feeling anyone can have. Mr. Boyers and his staff were very sincere and compassionate the entire time they represented me and continuing showing their concern after it concluded. Throughout the proceedings, I was kept abreast of everything that was happening. I can't remember one time when I called Mr. Boyers and he didn't answer my call or get right back to me. Mr. Boyers provided me with his personal cell phone number just in case I had questions. My case was successfully resolved and I was very pleased. I pray that I never need to go through another wrongful death case but, if I do, Boyers Law Group will be the FIRST law firm that I call.   -Erica  
---
Professionalism/Attentive to Detail  
I was involved in a malpractice related case and was referred to Robert through another attorney. He took care of me, my interests and most importantly the case from day one. He is very energetic, smart and aggressive when it comes to representing his clients. I am more than appreciative of the end result. I feel lucky to have been referred to him at a time in my life when I did not know what to do or who to turn to. Thanks to Mr. Boyers, my future is secure.   -Frances  
---
Personal Injury
I had a major accident where I sustained many injuries both short and long term. I was referred to Rob Boyers by a friend. I contacted him and he came to my house, as I was completely incapacitated. He interviewed me and my family as to the facts of the case. We then hired him. Throughout the course of one year he acted on my behalf and worked diligently on my case. He achieved a result I would have thought unreachable. To that end, I am grateful to him and for his services. I consider him a friend to this day.   -Robin
Since 1997, the "Lead Counsel Verified" status has been granted to attorneys who possess:

The Right Professional Experience
A Spotless Record
The following attorneys at this firm are Lead Counsel Verified: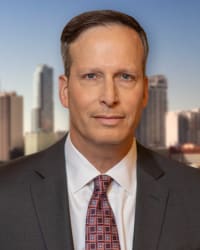 Robert B. Boyers
This attorney is Lead Counsel Verified in the following practice areas:
| Practice Area | Year |
| --- | --- |
| Personal Injury | Since 2015 |
| Practice Area | Year |
| --- | --- |
| Personal Injury | Since 2015 |
For Attorneys:
Download Lead Counsel Badge