« Back to Results
Joshua S. Danz, P.A.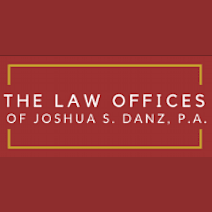 Experienced Former Prosecutor For Your Sex Crimes Defense
If you get arrested or are facing charges for a sex crime, choosing the right lawyer to represent you or a loved one can make all the difference in the end. The Law Offices of Joshua S. Danz has handled thousands of sex crimes cases and is ready to vigorously defend you immediately. Mr. Danz will work with you to understand your charges and attack the government's evidence and arguments against you to obtain the best possible outcome.
As a former Sex Crimes Prosecutor and now a Criminal Defense attorney, Mr. Danz has handled nearly every type of sex crimes case in Florida. Whether you're facing charges for sexual battery/assault, statutory rape, or prostitution, Mr. Danz understands the severity of your situation and is ready to fight on your behalf. He has a great deal of experience fighting sex crime allegations, which allows him to provide the highest quality services for each of his clients. When you have a legal matter that requires immediate action and attention to detail, Mr. Danz is always by your side.
A conviction for a sex crime can have very serious consequences, so it is of the utmost importance to have a knowledgeable and experienced attorney by your side throughout the process. The Law Offices of Joshua S. Danz, P.A., handles sex crimes cases throughout the State of Florida.
Contact us today if you need legal assistance with any of the following:
Capital Sexual Battery
Sexual Battery
Sexual Assault
Human Trafficking
Unlawful Sexual Activity With A Minor
Solicitation of a Minor
Indecent Exposure
Rape/Statutory Rape
Child Pornography
Failing to Register as a Sex Offender
Lewd and Lascivious Molestation
Prostitution
Solicitation
Date Rape
Call Joshua Danz today at 954-546-7475 to arrange your free initial consultation.
Attorney Joshua S. Danz
Joshua was born and raised in South Florida. After graduating high school at the top of his class, he attended Florida State University where he continued to excel in the classroom. While earning his degrees in Communications and English, Joshua began to develop his competitive speaking skills as the President and Captain of the Florida State University Speech and Debate Team. Joshua was one of the top debaters in the country as he became a three-time State Champion and thirty-two-time National Finalist.
Joshua moved back to South Florida after graduating from college to attend the Shepard Broad College of Law at Nova Southeastern University. While excelling in his studies, Joshua interned at the Public Defender's Officer in Broward County, Florida, where he tried multiple cases on behalf of individuals charged with crimes.
After graduating Law School, Joshua was hired as an Assistant State Attorney at the Broward County State Attorney's Office where he prosecuted thousands of cases. During his time as a Prosecutor, Joshua handled nearly every type of criminal charge in Felony, Misdemeanor, and Juvenile Courts. Joshua also spent a number of years prosecuting sexual battery and child abuse cases before becoming a criminal defense attorney.
Today, Joshua is devoted to representing people who are charged with crimes throughout the State of Florida. Dedicating himself to being the best criminal defense attorney, Joshua is a zealous advocate for all of his clients. He uses his legal knowledge and top-notch trial skills to get the best results for everyone he represents.
Office Locations
Orlando Office
132 E Colonial Dr. Suite 200
Orlando, FL. 32801
Cooper City Office
11011 Sheridan St. Suite 314
Cooper City, FL. 33026