« Back to Results
The Law Offices of Januszewski McQuillan and DeNigris, LLP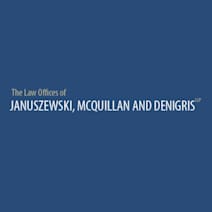 Complete Solutions To Your Legal Issues
The Law Offices of Januszewski, McQuillan and DeNigris was founded by the late Judge Roman Lexton in 1952 to provide Connecticut residents with exceptional legal services. Today, our attorneys uphold the high level of professionalism, integrity and commitment that represent the foundation of the firm. The dynamic team of lawyers at Januszewski, McQuillan and DeNigris is committed to the Connecticut communities we serve. In addition to our steadfast advocacy for our clients, our attorneys are involved with various local organizations as board members and volunteers.
Because legal issues are intricately interwoven, our attorneys look at the big picture and consider how one legal problem could impact another seemingly unrelated area of your life. When you retain an attorney from The Law Offices of Januszewski, McQuillan and DeNigris, you receive the knowledge and experience of every lawyer in the firm. While you may work with one attorney, we regularly discuss our clients' cases and advise each other. Through this team approach, our attorneys devise complete solutions to your legal issues.
Contact us today if you need legal assistance with any of the following:
Family Law
Divorce
Trusts
Wills
Contested Wills
Probate
Personal Injury
Medical Malpractice
Products Liability
Automobile Accidents
Workers Compensation
Wrongful Death
Criminal Defense
Driving While Intoxicated
Administrative Agency Proceedings
Land Use
Zoning
Real Estate
Civil Litigation
Criminal Trials
General Practice
Professional Malpractice
Representation To Professional Responsibilities
State And Federal Courts
Trials In State And Federal Courts
The Law Offices of Januszewski, McQuillan and DeNigris is located in New Britain and serves clients throughout Harford, New Haven and Middlesex counties, including New Britain, Berlin, Newington, Plainville and Southington.
Our attorneys regularly appear in the superior courts of New Britain, Hartford, Middletown, Bristol and Meriden. Call 860-505-4415 today to arrange your free initial consultation.
Attorney John C. Matulis, Jr.
Bar Admissions:
1976, Connecticut and U.S. District Court
District of Connecticut
1986, U.S. Court of Appeals, Second Circuit
1998, U.S. Supreme Court
Education:
University of Connecticut, J.D.
Professional Memberships and Achievements:
New Britain (President, 1991-1992)
Hartford County (Co-Chair, Bench-Bar Committee
1993-1995, Chair, Civil Litigation Committee, 1996—)
Connecticut and American Bar Associations
Connecticut Trial Lawyers Association.
---
Attorney Martin McQuillan
Bar Admissions:
1990, Connecticut
1991, U.S. District Court
District of Connecticut
Education:
 Western New England College, J.D.
Professional Memberships and Achievements:
Member, Board of Directors, Connecticut Legal Services, Inc., 1991
Chair, People's Law School, New Britain, 1993
President, New Britain Bar Association, 1998
 New Britain, Hartford County and Connecticut Bar Associations
Connecticut Trial Lawyers Associatio
---