« Back to Results
Avila & Shaddow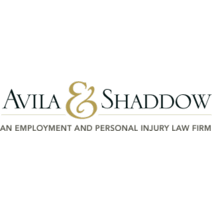 Aggressive Protection of Your Rights Under The Law
We take great pride in the work we do because it gives us the chance to turn our clients' lives around. Even when it seems like no one else is willing to help; our clients can rely on us to get things done. We don't back down, and we don't settle for less than what our clients deserve.
At Avila & Shaddow Attorneys at Law, we represent clients in employment law and personal injury cases throughout Southern California including but not limited to Los Angeles County, Ventura County and Kern County. Our clients often come to us after having gone through extraordinary circumstances. Whether they have been struggling with disputes at work when they should be building toward success, or they have been dealing with the unanticipated consequences of a serious personal injury or a wrongful death, we are here to help.
We help our clients overcome financial, physical or workplace obstacles through seasoned and aggressive legal counsel. Contact us today to discuss your case with a lawyer who can achieve the results you are looking for.
Contact us today if you need legal assistance with any of the following:
Breach of contract
Defamation
Discrimination
Fraud/misrepresentation
Harassment such as sexual harassment
Hostile work environment
Independent contractor work and misclassification of workers
Leaves of absence, reasonable accommodation and the interactive process
Retaliation
Severance negotiation
Violation of the California codes, including government, business and professions, health and safety, and labor codes
Violation of public policy
Wage/hour laws and regulations
Wrongful termination
Bicyclists and pedestrians hit by cars
Boat, "Jet Ski" and water recreation accidents
Car accidents
Commercial vehicle accidents
Crashes caused by texting and cellphone use
Motorcycle accidents
Rear-end collisions
Rollover
Truck accidents
Call Avila & Shaddow Attorneys at Law today at 866-450-4529 to arrange your free initial consultation.
Attorney Mark Steven Avila
Bar Admissions:
California, 1993
U.S. District Court Central District of California, 1995
Education:
Loyola Law School, Los Angeles, California

Law Review: Los Angeles Law Review, Staff Member (1991-1992) and Articles Editor (1992-1993)

University of California
Professional Memberships and Achievements:
Consumer Attorneys Association of Los Angeles
California Employment Lawyers Association
Los Angeles County Bar Association
Languages Spoken:
---
Attorney Tali Helene Shaddow
Bar Admissions:
California, 1992
U.S. District Court Central District of California, 1993
U.S. District Court Northern District of California, 1998
Education:
Loyola Law School, Los Angeles, California

Honors: Dean's Full Scholarship Recipient (1989-1992)
Honors: St. Thomas More Law Honor Society Invitee

Law Review: Los Angeles Law Review, Staff Member (1990-1991) and Articles Editor (1991-1992)

University of California, Los Angeles, California
Professional Memberships and Achievements:
Los Angeles County Bar Association
California State Bar Employment Section
California Employment Lawyers Association
Languages Spoken:
In 2014, Mark Steven Avila successfully represented me in a difficult, employment-related lawsuit made all the more challenging by the nuanced nature of the case. I had never before been involved in any type of litigation and Mr. Avila was very effective at providing guidance and coaching through what proved to be an extremely trying experience. Mr. Avila operates at a high level of skill and integrity-- vital for success and for establishing trust and confidence. His reassuring degree of engagement in the case was evident through his many questions and the extensive information he asked me to provide. During the many months he worked on my case, I observed the following: a tireless attention to detail, an impressive ability to connect the dots (often obscured and/or seemingly unrelated dots), an insightful understanding of the "big picture," a keen memory, pleasant interpersonal skills, and-- above all-- a commanding knowledge of the law. At all times, I felt that Mr. Avila prioritized my case. He was honest and straightforward in his communications, and was adept at establishing and maintaining a productive relationship with opposing counsel. I feel fortunate to have been represented by Mr. Avila and enthusiastically recommend his legal services.
---
Mark Avila and Tali Shaddow are consummate legal professionals with a strong sense of the practicalities related to business transactions and how that relates to employment issues. Avila & Shaddow have provided me with custom solutions focused specifically on my unique requirements. I have engaged Mark and Tali on several transactions and have been extremely pleased with their attention to detail, clear focus on my requirements, proactive strategies, and the overall responsiveness of the firm. I highly suggest Avila & Shaddow for your employment law needs.
---
I had a wrongful termination due to a disability and found the law office of Avila and Shaddow to be very knowledgeable, proactive, and upfront with how they communicated what they can and cannot do in my case. They were always informed and a step ahead in my case. I found them to be compassionate and aggressive with a fire to succeed which proved to be a winning combination. The results turned out to be more than I expected. I had interviewed other lawyers before I had Avila and Shaddow represent me and I can attest to the fact that I made the right decision.
---
Mark handled my Sexual Harassment case. He was very caring, knowledgeable and truly fought on my behalf. If you want someone that will really fight for you then Mark is the Attorney for you. When going through something as traumatic as that you need someone that cares about their client and is passionate about their work.
---
The reason why I would recommend Mark S. Avila is based purely on performance. I have given Mark many legal cases over the past several years. The outcome has always been 100% favorable; and in many instances, the results have surpassed my expectation. He is also very professional, charismatic and extremely hard working.
---
Mr. Avila from the very moment I met him, conveyed confidence and a level of comfort in his ability and knowledge. This is why I trusted him in the handling of two (2) cases for me. Mr Avila kept me informed as needed about important updates about my case. When I contacted his law firm, his staff is always pleasant, polite and prompt, in getting my issue resolved. I would certainly, recommend Mr Avila for any legal matter, his firm handles. He is a credit and a valuable asset to the legal profession.