« Back to Results
Law Offices of Susan H. Witting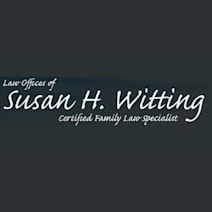 Our office remains open, and in response to COVID-19 we have expanded our options for remote consultations and virtual meetings. Please contact our office to discuss what meeting option best fits your situation.
Call 805-777-7371.
Offering Experience and Insight to Clients Throughout Ventura County
Divorce cases and other family law matters require a careful, diligent approach backed by knowledge and experience. At the Law Offices of Susan H. Witting, we offer each of our clients the representation they need to pursue positive resolutions to difficult family law issues.
Contact us today if you need legal assistance with any of the following:
Divorce
Community Property Division
Complex Asset Division Issues
Spousal Support (Alimony)
Child Custody & Visitation
Parental Relocation & Interstate Custody Issues
Child Support & Modification
Military Divorce
Domestic Violence
Modifications
Prenuptial & Postnuptial Agreements
Our firm is conveniently located in a first-floor office right off the 101 freeway in Thousand Oaks, with plentiful free parking. We accept Visa, MasterCard, American Express and Discover. If you need assistance with a divorce case, a child support modification petition, a domestic violence restraining order or any other family law matter, do not hesitate to call 805-777-7371 today to arrange your initial consultation.
Attorney Susan H. Witting
Susan H. Witting has been practicing law in Ventura County since 1983 and has dedicated her practice to all aspects of Family Law. She is a Certified Family Law Specialist by the State Bar of California Board of Legal Specialization.
Ms. Witting is a past president of the Family Law Section of the Ventura County Bar Association, serving two consecutive terms in 1997 and 1998.
She has also devoted much time and effort to educating and assisting people learn about their legal rights: she taught re-entry women about various areas of the law at the community college level as a community college instructor; she has given numerous lectures and seminars to clubs and organizations; and has volunteered much time in past years to educating men and women on their rights in the area of family law by organizing and moderating free Family Law Forums throughout Ventura County.
Ms. Witting has also devoted much volunteer effort to many civic and service organizations such as the Conejo Youth Employment Service, dedicated to assisting youth to become employed.
As your family law firm, our office provides a full service approach - experienced and knowledgeable about our community. 
Bar Admissions:
Education:
Pepperdine University School of Law, Malibu, California
University of Colorado
Professional Memberships and Achievements:
Ventura County Bar Association, Member, Board of Directors, 1998 to 2000
Ventura County Bar Association, Family Law Section
Ventura County Bar Association, Board Member, 1996 to 2000
Ventura County Bar Association, President, 1997 to 1998
American Bar Association, Family Law Section, Member
State Bar of California
American Association of University Women, 1976 to 1976
American Association of University Women, Thousand Oaks Branch, President, 2001 to 2002
Ventura County Commission for Women, Commissioner, 1987 to 1990
City of Thousand Oaks Planning Commission, Commissioner, 1990 to 1991