« Back to Results
Moradi Saslaw LLP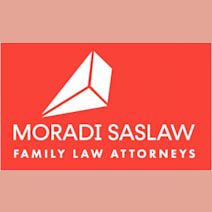 We Understand More Than Family Law.
Our firm is comprised of premier divorce lawyers with a strong record of courtroom success and negotiated settlements. Our clients come from varied backgrounds, including private equity and venture capital partners, elite doctors and lawyers, top-performing CEOs, successful entrepreneurs, and dedicated homemakers.
Moradi Saslaw has been supporting clients through their most difficult family law issues since 2009. Our attorneys are highly experienced and have all practiced law extensively before joining our team. Every single person at Moradi Saslaw is dedicated to helping our clients find the most advantageous resolutions for them and their families.
Whether your needs are simple asset division or a basic custody agreement, or more intricate matters such as an analysis of dividing stock options, limited partnership interests, or a contested custody dispute, we develop creative strategies to meet your goals. Our organized and thorough approach achieves results.
We are a full-service family law firm with experience litigating and negotiating complex divorces and domestic partnership dissolutions in the San Francisco Bay Area. Our team of talented attorneys handles the whole range of family law matters, including:
Divorce
Domestic Partner Dissolution
Division of Assets & Debts
Spousal Support
Child Support
Custody & Visitation
Move-Away / Relocation Custody Disputes
Prenuptial & Postnuptial Agreements
Call 415-872-1080 today to arrange your initial consultation.
Attorney Kiana Moradi
Known for her expert representation of the Bay Area's senior executives and their spouses, Kiana protects her clients in high asset divorces and contested custody cases so that they can transition to a more hopeful chapter in their lives.
In her eighteen years of legal practice, Kiana has negotiated and litigated the full spectrum of disputes that occur in financially sophisticated divorces. She represents start-up founders, venture capitalists, private equity partners, real estate developers, business owners of privately held companies, and others. She has achieved successful outcomes for clients in issues involving business valuations, real estate, private equity and limited partnership income, carried interest, restricted stock, and founders' stock.
With each case, she creates effective strategies in dividing marital assets and spousal and child support. She focuses on each client's particular needs with "big-picture" astuteness.  She educates her clients about the advantages and disadvantages of various approaches, enabling her clients to make the best decisions for their new post-divorce lives. She also counsels clients on the most advantageous forum for their particular situations, whether it is negotiations between lawyers, consulting as counsel in mediation, before private judges, or pursuing litigation in court. When appropriate, she strategizes with her tailored network of outside consultants including forensic accountants, wealth managers, estate planners, corporate counsel, custody experts, therapists, and others. Kiana aims to not only not help her clients achieve favorable results in their divorce, but she is committed to setting them up for their happier lives post-divorce.
Kiana also specializes in contested custody disputes. In custody and visitation matters, she advises on parenting plans best suited for the client and the client's family, often working with psychologists that specialize in divorcing couples. She is particularly proud of providing many clients the tools and education to become better co-parents post-divorce. She has also obtained several successful results for her clients in move-away/relocation disputes.
---
Attorney Jennifer Saslaw
Jennifer Saslaw's practice focuses on complex family law litigation and as a consulting attorney to clients in mediation. As a graduate of Stanford Law School and a former corporate attorney at Orrick, Herrington, & Sutcliffe, Jennifer's background enables her to understand complex business issues and find creative solutions to the problems that often arise in dividing marital assets. She has expertise in working with employees and entrepreneurs of technology companies of all sizes, from early-stage through IPO, as well as clients who work in professional practices and limited partnerships. Jennifer has experience working with assets of all types and has worked with clients who have founders shares, restricted stock, stock options, carried interest, and general and limited and partnership interests to find creative solutions to dividing these complex assets.
In addition to providing counsel through litigation, Jennifer also serves as an advisor to clients who are in mediation to settle their divorce, custody, and support matters.  She works with her clients to determine the key issues in their dissolution, including division of their marital estate, and custody and timeshare of their children. Jennifer's goal is to help her mediation clients find solutions that meet their needs and the needs of their children, without costly litigation.
Jennifer works with clients who need help litigating and resolving complex custody issues, including move-aways. She has worked extensively with same-sex couples in both divorce and domestic partnership dissolution. She also provides pre-marriage advice and counsel to clients who want a better understanding of how to protect their assets prior to marriage.
---
Attorney Alex Cardwell
Alex Cardwell has been practicing law for over 16 years, focusing on family law matters exclusively since 2004. Alex has experience in all aspects of family law including divorce, child custody and visitation, support, paternity disputes, Marvin actions, post-judgment issues, and prenuptial agreements.
Alex has effectively, and tactfully resolved numerous cases involving complex legal and financial issues. He has represented a diverse range of clients, including technology executives, scientists, investment professionals, attorneys, doctors, engineers, entrepreneurs, musicians, school teachers, stay-at-home parents, actors, and their spouses. While Alex has substantial litigation experience, he makes every effort to pursue resolutions out of court if possible. He gathers sufficient information to identify the issues in clients' cases, communicate what the options are, and help make an informed decision about the best path forward. Whichever course of action is best, Alex will vigorously advocate on his client's behalf to help you achieve the best possible result.
---
Attorney Michelle Steigerwald
Michelle Steigerwald began her legal career as a civil litigator in 1998 where she gained considerable discovery, alternative dispute resolution and courtroom experience representing clients in high-stake, multi-party lawsuits. Michelle transitioned exclusively to family law in 2007 and represents clients in all aspects of dissolution, parentage and post-judgment actions, including complex financial, business valuation and property division, child and spousal support, and custody matters, as well as drafting and reviewing premarital and post-marital agreements.
With over twenty years of experience, Michelle is a skilled negotiator and advocate.  She successfully settles the majority of cases but possesses the skill and expertise to take a case to trial when necessary.  In addition to being a seasoned litigator, Michelle regularly serves as consulting counsel for clients seeking to resolve their family law matter through the mediation process.
---
Attorney Adam Neufer
Adam Neufer is a Certified Family Law Specialist by the State Bar of California Board of Legal Specialization. His practice is devoted exclusively to divorce and family law matters, including probate matters such as step-parent adoptions and guardianships.
Adam has been successfully representing families and individuals in complex and high-conflict matters since 2010. Previously, he served as a judicial extern to the former supervising judge of the San Francisco Unified Family Court, Hon. Patrick J. Mahoney (ret.). Representative cases include complex support and property matters such as cases involving business valuations, executive compensation and venture capitalist investments, domestic and international jurisdictional disputes, contested parentage proceedings, contested child custody proceedings including "move-away" requests, guardianships of the person, and matters involving domestic violence.
Whether it be through focused negotiations or aggressive litigation, Adam works with clients to develop and execute a customized strategy to meet their goals and achieve outcomes that matter.
---
Attorney Elsa-Marie Medeiros
Elsa-Marie Medeiros practices all areas of family law including property characterization and division, child and spousal support, and contested child custody and visitation. She has experience in all types of cases, from simple to complex financial assets, as well as cryptocurrency issues. She is well versed in working with forensic accountants and CPAs.
Her background in representing trauma-impacted youth in school expulsion hearings and guardianship and immigration proceedings provides her with the unique perspective on the effects of trauma and abuse on children's well-being. She is a Court Appointed Special Advocate (CASA) in San Francisco County. As a CASA, she advocates for abused and neglected children in the dependency system. She is empathetic and provides legal counsel that specifically caters to her client's personal needs and goals.
---
Attorney Rachael I. Zeiph
Rachael Zeiph has been exclusively practicing Family Law since 1998, mostly at law firms, and for four years with the Department of Child Support Services.
Rachael has extensive experience working with all aspects of divorce and paternity actions including division of property, stock options, retirement accounts, spousal support, child support, high conflict custody cases, and domestic violence and restraining orders. She was often appointed as Minor's Counsel, giving her the unique tools to uniquely understand children's interests. At Moradi Saslaw, she uses that experience to help her parent clients settle and/or litigate their cases, with the best interests of the children in mind. Rachael works extensively with a variety of family law professionals to achieve the best results for her clients, including child custody evaluators, special masters, mediators and therapists.
Along with Rachael's vast experience, her approachable and calm demeanor enables her to manage each case effectively, whether the case requires intensive advocacy or a mediated approach. She strives to promote settlement; however, she is a resilient advocate for her clients to achieve the best outcome in a very challenging and emotional time and has extensive courtroom experience. No case is the same, and each client receives representation tailored to their goals.
---
Attorney Sadie Clement
Since her admission to the California Bar in 2012, Sadie Clement has focused her practice on family law. Sadie has significant experience representing clients throughout the Bay Area in cases that involve high asset property division and valuations, complex support issues, high conflict custody matters, and domestic violence and restraining orders. She also counsels clients on premarital and postnuptial agreements. Sadie is experienced in all aspects of litigation, including hearings and trial work. She represents clients in both dissolution of marriage and dissolution of domestic partnership actions.
Sadie's dedication to family law has its roots all the way back in law school. As an extern for a San Francisco Superior Court judge, she gained unique insights into the Court's perspective on family law litigants. An internship with the San Francisco District Attorney's Office Sex Crimes Unit provided compelling experiences in both family and criminal law matters. While working with a nonprofit law center, Sadie advocated for self-litigant domestic violence victims, drafting restraining orders and assisting with trial preparation.
At Moradi Saslaw, Sadie works directly with her clients to determine the most effective approach for reaching their goals. Whether the process is relatively routine or highly complex, Sadie involves her clients every step of the way, helping them to make educated decisions about their matter. While she understands that every client's situation is unique and highly personal, Sadie leverages her extensive background to help her clients achieve their best outcome. Always a zealous advocate for her clients in litigation or settlement negotiation, Sadie is particularly mindful of the costs associated with each client's case, which stems from her combined experience representing clients at both prestigious family law firms and a nonprofit organization.
---
Attorney Dana Sheldon
Dana Sheldon has been practicing family law exclusively since 2009. Prior to that, she was a business litigator for two years. She has considerable experience handling high conflict family law matters, including property division issues, custody and visitation, spousal support and child support as well as post-judgment disputes. She is versed in working with experts, including forensic accountants and custody evaluators.
Dana is a tough and compassionate advocate. She is solution-oriented and always seeks to develop and execute strategies that will reach resolutions outside of the courtroom to achieve goals in the best interests of her clients. However, when alternative dispute resolution processes fail, Dana is prepared to litigate to protect her client's rights and interests.
Dana also specializes in preparing and advising clients on prenuptial and postnuptial agreements. She has worked with a wide variety of clients in these matters, including startup founders, venture capitalists, and private equity investors. She is versed in formulating agreements regarding privately and publicly traded stock interests, venture capital funds, business ownership interests, real property interests, and spousal support.
---
Attorney Charlie Young
Charlie Young has been practicing family law in the Bay Area exclusively since 2016. Prior to that, Charlie gained extensive courtroom experience, first as an attorney representing parents in juvenile dependency matters, and then as a deputy public defender, where he handled both criminal and juvenile dependency matters. Charlie is a skilled trial attorney, having tried more than 100 bench trials and various jury trials.
Charlie believes that no two family law cases are alike and that each case requires a clear understanding of his client's needs and ultimate goals in order to achieve the best outcome, whatever that may look like for a particular client. Charlie is an empathetic and compassionate advocate who is focused on alternative dispute resolution, yet he is prepared to vigorously litigate a case where necessary.
Although Charlie practices all areas of family law, he focuses on high-asset dissolutions, including those which may require collaboration with business counsel, estate planning counsel, and or criminal counsel. Charlie also specializes in contentious custody matters, including domestic and international relocation cases. Charlie is also experienced in complex domestic violence cases, including those which require forensic evidence and the use of leading national experts.