Law Office of James McGee
Former Prosecutor with Decades of Experience Working to Help You
The Law Office of James McGee prides itself on high-quality personal representation in criminal matters. We use our close ties in Riverside and San Bernardino Counties to serve individuals who require experienced criminal defense assistance with charges such as murder, robbery, gang-related crimes, weapon-related offenses, DUIs, white collar crimes, and even expungements after your case is resolved. Our firm is well-respected in the local community and we have the track record that will justify your faith in us. When you hire the Law Office of James McGee, you can rest assured that your matter will proceed as smoothly as possible.
Contact us today if you need legal assistance with any of the following:
Homicide/Murder
Violent Crimes
Gang Crimes
Firearm Charges & Enhancements
Three Strikes Cases
Family Violence
White Collar Crimes
Property Crimes
Drug Offenses
Reducing/Dismissing Prior Convictions
Driving Under The Influence
Diversion Program
Call 888-873-0383 today to arrange your free initial consultation.
Attorney James McGee
James McGee is an experienced criminal defense attorney specializing in cases involving complex violent crimes. A graduate of Loyola Law School, Mr. McGee has been practicing for approximately twenty years, including having served as deputy district attorney of the County of San Bernardino for over twelve years.
Mr. McGee earned his Juris Doctor in 2001 and began his tenure with the County of San Bernardino the following year. During his time with the county, he handled a variety of cases, ranging from hardcore gang prosecutions and murders with special circumstances to wiretap prosecutions, insurance fraud, and mentally disordered offenders. Mr. McGee was successful in numerous high-profile prosecutions throughout his career in public service.
In 2014, Mr. McGee left the District Attorney's office to enter private practice as a criminal defense attorney. In the years since, he has leveraged his background and experience as a prosecutor to help his clients on the other side of the courtroom.
As a leader in criminal law, Mr. McGee has acted as a mentor to many defense attorneys and is routinely contacted to give advice on complex cases and other legal matters. Throughout his career, he has given lectures on topics such as using technology in the courtroom, using discovery to undermine a gang investigation, and the law on immunity. This requires Mr. McGee to stay abreast of recent developments in criminal law, especially those related to gang prosecutions. He notes:
    I pay close attention to changes in anything involving gang prosecution as well as evidentiary issues. Gang prosecutions have changed drastically over the years and defense attorneys have various avenues to attack the government's case after the California Supreme Court decisions in Sargon, Rodriguez, Prunty, Elizalde and Sanchez. 
Mr. McGee is a member of the Riverside County Bar Association, San Bernardino County Bar Association, California Attorneys for Criminal Justice and California Public Defenders Association. Mr. McGee is a native of California, growing up in the Pomona area. He graduated from the University of California at Irvine with a Bachelor's Degree in Philosophy.
Mr. McGee also serves on the Board of Directors of Court Appointed Special Advocates (C.A.S.A.) of San Bernardino County. C.A.S.A. is a non-profit organization that trains volunteers whom are appointed by a judge to represent the best interests of a child currently under the jurisdiction of the Juvenile Dependency court. The group's goal is to improve the quality of life for foster youth, juvenile care youth, and foster care alumni youth with stable and consistent mentoring and advocacy. For ten years, Mr. McGee also participated in the Fontana Leadership Intervention Program (FLIP) by counseling troubled youth on the dangers of being involved in a gang lifestyle and the legal consequences of such activity.
---
Attorney Lynn Freeman
Lynn Freeman began studying Criminal Law and the Criminal Justice System at Sacramento State University, where she graduated summa cum laude with a bachelor's degree in Criminal Justice. At Sacramento State she gained a basic understanding of investigative protocols through Sacramento State's Crime Lab and investigation course. Further, her studies of Constitutional Law, Search and Seizure, and Evidence at Sacramento State provided the bedrock of knowledge involving criminal law and procedure that allowed her to succeed in law school.
During her time at McGeorge School of Law, University of the Pacific, Ms. Freeman expanded her knowledge of criminal law through various courses involving criminal law, including practical courses where she participated in mock trials and pretrial litigation, allowing her to develop courtroom litigation skills for trials and pretrial motions in the criminal sector. While in law school, Lynn worked in the legal field as a Certified Law Student, providing legal services to elderly clients at McGeorge School of Law's Legal Services Clinic. Additionally, Lynn gained experience drafting criminal appeals when working as a Certified Law Student for the California Attorney General's Office, in the Appeals, Writs and Trial division.
After graduating from McGeorge School of Law, with a concentration in Trial and Appellate Advocacy in 2019, Lynn began working as a Graduate Legal Assistant for the California Department of Corrections and Rehabilitations, Board of Parole Hearings, in the Legal Division before joining the California Bar in 2020. Lynn's work for the Board provided her with a firm understanding of the parole process, factors relevant to obtaining a grant of parole, and programs that provide certain inmates early eligibility to receive a parole hearing.
---
Attorney Steven Weaver
Born and raised in St. Louis Missouri, Steven is a graduate of Mizzou and Florida Coastal School of Law.  Mr. Weaver has a diverse legal background.  He started practicing law in 2006 at the Los Angeles County Public Defender Office.  He practicing at the downtown courthouse on Temple, Los Angeles Court, Downey Court and at Kenyon Juvenile Justice Center in South Central Los Angeles.  He did over 30 misdemeanor trials and 40 juvenile adjudications with a focus on saving youth from strikes.  In 2012, he wanted a new challenge and he took and passed the Missouri Bar and started a criminal division at his brother's law firm, TLW and Associates in St. Louis Missouri.  He also started to learn civil law and started to take cases in that area of law.  In a short period of time he was able to receive settlements in cases ranging from a wrongful foreclosure to a slip and fall at LAX.  Other areas of law he practiced include insurance, personal injury, land-lord tenant and medical malpractice.
After a couple of years of experiencing excruciating heat, freezing colds and missing criminal trials, he decided to move back to Southern California!  He started with the San Bernardino in December of 2014 and while there achieved not guilty verdicts on all of his misdemeanor cases and winning most of his felony cases.   From 2018-2021 he was awarded the distinction of being chosen for the "187" or "murder team" of the office and achieved success in 7 out of 10 murder trials.  He has negotiated at least 10 187 cases for the low to mid-teens and even as low as 7 years on a manslaughter.   Mr. Weaver opened his own firm in January of 2022 but Mr. McGee, knowing of his excellent reputation and trial abilities, recruited him to join his firm in March of 2022.  Mr. Weaver now has his sights set on defending serious criminal law matters and civil litigation matters including prisoner's rights.
Mr. Weaver was a division 1 basketball player at Mizzou and played with NBA players Kareem Rush and Kenyon Dooling.  In high school he won a state championship with current Duke Coach Chris Carrewell.  He has won several championships as an attorney in the Landau league in Los Angeles with the Langston Association and still plays weekly.  Mr. Weaver is married and has one child.  He is passionate about civil rights, justice and sports and he is excited to be at your service.  He has almost 100 trials under his belt and has successfully had hundreds over matters dismissed, reduced or defended successfully.  With Mr. Weaver, you can trust you have an experienced attorney who will fight for you!!
Since 1997, the "Lead Counsel Verified" status has been granted to attorneys who possess:

The Right Professional Experience
A Spotless Record
The following attorneys at this firm are Lead Counsel Verified: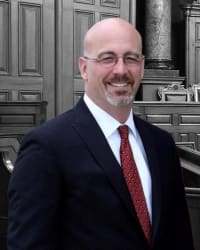 James E. McGee, II
This attorney is Lead Counsel Verified in the following practice areas:
| Practice Area | Year |
| --- | --- |
| Criminal Defense | Since 2023 |
| Practice Area | Year |
| --- | --- |
| Criminal Defense | Since 2023 |
For Attorneys:
Download Lead Counsel Badge