« Back to Results
Law Offices of Karen J. La Madrid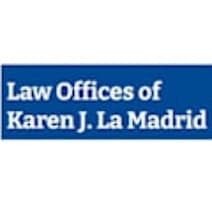 Estate Planning | Serving Riverside, CA
Law Offices of Karen J. La Madrid, a reputable Estate Planning firm representing clients in the Riverside, California area.
Average Experience:
39 years
Prepare Your Family For The Future
At the Law Offices of Karen J. La Madrid in Riverside, California, we believe the purpose of estate planning is to make things easier for yourself and the people you love. When you plan your estate, you make important decisions in advance, which saves your loved ones a lot of confusion, and helps your family avoid painful conflicts.
With wills, trusts and other tools of estate planning, we help individuals and families plan for the future, provide for vulnerable loved ones and build legacies that can last long into the future.
Contact us today if you need legal assistance with any of the following:
Estate Planning
Probate & Estate Administration
Trusts
Wills
Call Law Offices of Karen J. La Madrid today at 951-224-9209 today to arrange your free initial consultation.
Attorney Karen J. La Madrid
Karen J. La Madrid has been a lawyer for more than 30 years, and has worked on estate planning and related legal areas throughout her career. She has helped clients with many complex legal issues in estate planning and probate.