« Back to Results
McCune Wright Arevalo, LLP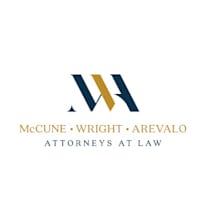 Personalized Service. Nationwide Results.
The attorneys of McCune Wright Arevalo, LLP are leaders in personal injury in the Inland Empire, and they have achieved that reputation by consistently winning large settlements and verdicts on behalf of personal injury victims and the families of wrongful death victims. Led by partner Cory Weck – a Marine Corps officer with over 20 years of service to his country and 15 years of experience litigating personal injury cases – our legal team is committed to seeing that justice is served and victims are properly compensated in all personal injury and wrongful death matters.
We aggressively represent our clients by using all ethical means available to hold the responsible parties accountable for all losses and damages incurred. It is through this unwavering dedication that we bring our commitment into real world practice by "Restoring Hope Through Justice."
Contact us today if you need legal assistance with any of the following:
Personal Injury

Pedestrian Accidents
Product Liability
Slip and Fall
Spinal Cord Injury
Traumatic Brain Injury
Motor Vehicle Accidents
Wrongful Death

Defective Products
Class Action
Commercial Litigation
In recent years, our attorneys have recovered large verdicts and settlements for clients across the Inland Empire region, including a $4.282 million verdict related to a ski boat manufacturing defect and a $4.25 million verdict in a motorcycle accident matter. When you work with us, our attorneys will fully investigate the circumstances of your matter and use all available resources to fight for all available damages in your case, including the lifetime cost of medical bills, lost wages, reduced earning potential, pain and suffering, and punitive damages to make sure you and your family are fully compensated for your losses and that wrongdoers are held accountable for their actions.
McCune Wright Arevalo are dedicated to winning justice on behalf of clients across the Inland Empire and beyond. Contact us at 909-557-1250 to arrange your free initial consultation and learn how we can fight on your behalf.
Attorney Cory R. Weck
Mr. Weck has been a leading trial lawyer in the Inland Empire since 2002. He has represented hundreds of clients in all matters arising out of personal injury litigation. He has been peer selected as one of the top 5% of attorneys by "SuperLawyer" since 2012. He is rated as BV Distinguinshed by Martindale-Hubbell and is the past president of the Inland Empire chapter of the Consumer Attorneys of California.
Mr. Weck has also served as a Marine Corps officer for over 20 years. He was commissioned as a second Lieutenant in 1994 and then served as a defense counsel representing Marines accused of violating the Uniform Code of Military Justice. Prior to leaving active duty he represented military commanders as a prosecutor for the busiest trial shop in the Department of Defense. As a result of his trial results and dedication to justice he was selected as the "Top Young Lawyer of the Year for the U.S. Marine Corps" by the American Bar Association in 1999. Since 2001, Mr. Weck has continued to serve as an active Reserve officer for the Marines. As a reservist, he continues to provide legal guidance to most of the major commands within the Marine Corps.
Mr. Weck received his Bachelor of Science degree in Economics from Cornell University and his Juris Doctorate from the University of San Diego School of Law.
Verdicts & Settlements
$1.6 billion
Member of the leadership team that settled the Toyota Sudden Unintended Acceleration class action for an estimated
---
$203 Million
Trial verdict in a class action for unfair bank overdraft fees
---
$11 Million
Settlement for injuries from auto accident
---
$35 Million
National class action settlement for unfair overdraft fees
---
$5.5 Million
For injuries in van rollover product failure accident
---
$4.28 Million
Ski boat manufacturing defect verdict
---
$2.7 Million
Settlement for defective medical device
---
$2.675 Million
For injuries in pick up fire accident
---
$2.5 Million
Settlement for paralysis injuries in auto accident
---
$2.25 Million
For injuries from SUV rollover accident
---
$1.7 Million
For paralysis injuries from SUV rollover accident
---
$1.5 Million
Class action settlement in consumer fraud case
---
$1.5 Million
Settlement for injuries from defective pharmaceutical drug
---
$975,000
For injuries from seat belt malfunction in auto accident
---
$850,000
Settlement for boat carbon monoxide poisoning death
---
$850,000
Trial verdict for injuries from trucking accident
---
$650,000
For injuries from seat belt malfunction in auto accident