Kazan, McClain, Satterley & Greenwood, A Professional Law Corporation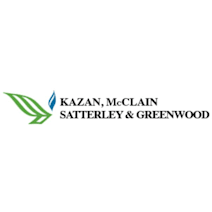 Nationally Recognized Pioneers in Asbestos Litigation
Since its founding in 1974, Kazan Law has represented thousands of people suffering from asbestos related illnesses, particularly mesothelioma. Among our principals are pioneers in asbestos litigation­ — the most experienced mesothelioma lawyers in California. We have unparalleled expertise in asbestos bankruptcy reorganizations and asbestos bankruptcy funds. Our team of exceptional attorneys has won precedent-setting rulings by the California Appellate and Supreme Courts. All of the principals and many of the associates have extensive trial experience. There are about 2,500 new cases of mesothelioma diagnosed each year in the United States.
The laws and guidelines regarding winning a lawsuit are complicated and vary from state to state. Attorneys at Kazan Law focus intensely on asbestos law. They know the intricacies of asbestos litigation and have the experience to successfully take a case through the court system. They are a special breed. Kazan Law is consulted by and gives advice to more than a thousand potential clients each year. We have filed more than two thousand cases in our history. Each case is individually developed and handled by a small team of attorneys, paralegals and professional investigators.
Contact Kazan, McClain, Satterley & Greenwood today if you need legal assistance with any of the following:
Mesothelioma & Asbestos
Asbestos Litigation
Asbestos Exposure
If you or someone you know has been diagnosed with mesothelioma or suffer due to asbestos exposure, then find out about your legal rights by requesting FREE information. Call Kazan, McClain, Satterley & Greenwood today at 888-580-9907 to arrange your free initial consultation.
Attorney Steven Kazan
Bar Admissions:
New York (1967)
California (1970)
U.S. Courts of Appeals, Third, Fifth and Ninth Circuits
California and U.S. District Courts, Northern and Eastern Districts of California
U.S. Supreme Court
Education:
Harvard University (LL.B., 1966)
Brandeis University (A.B., 1963)
Professional Memberships and Achievements:
California Consumers Attorneys of California (Board of Governors 1980-1995, Vice-President 1990, Parliamentarian 1989)
Alameda-Contra Costa Trial Lawyers Association (President 1980)
Alameda County Bar Association
Federal Bar Association
New York State Bar Association
California State Bar Association
Trial Lawyers for Public Justice
AFL-CIO Lawyers' Coordinating Committee
New York State Trial Lawyers Association
American Association of Justice
Great Britain's Association of Personal Injury Lawyers (APIL)
Allen E. Broussard Law School Scholarship Foundation (Chairman of the Board of Directors)
---
Attorney David McClain
Bar Admissions:
Education:
Hastings College of the Law, University of California (J.D., 1972), member of the Thurston Society (top 5%)
University of California at Los Angeles (B.A., 1969)
Professional Memberships and Achievements:
Alameda-Contra Costa Trial Lawyers Association (President 1996 and member of the Board of Governors since 1987)
American Association for Justice
Asbestos Litigation Group
National Lawyers Guild
Consumer Attorneys of California
Alameda County Bar Association
California State Bar Association
---
Attorney Joseph D. Satterley
Bar Admissions:
Kentucky Bar
Pennsylvania Bar
California Bar
U.S. Supreme Court
U.S. District Court, Eastern District of Kentucky
U.S. District Court, Western District of Kentucky
U.S. Court of Appeals, 6th Circuit
Education:
Temple University James E. Beasley School of Law (J.D., 1997)
Eastern Kentucky University, Political Science and Military Science (B.A., 1989)
Professional Memberships and Achievements:
Kentucky Bar Association
Louisville Bar Association
Former president, Kentucky Justice Association
American Association of Justice Leaders Forum
Member, Board of Governors, American Association for Justice
---
Attorney Gordon Greenwood
Bar Admissions:
Education:
George Washington University School of Law (J.D., 1988)
Morehouse College (B.A., 1985)
Professional Memberships and Achievements:
Charles Houston Bar Association (Life Member)
National Bar Association (Life Member)
American Bar Association
Alameda County Bar Association
Association of Trial Lawyers of America
Alameda/Contra Costa County Trial Lawyers Association
Consumer Attorneys of California
National Lawyers Guild
National Association For The Advancement of Colored People (Life Member)
$117,000,000 Mesothelioma Verdict for Lifelong User of Johnson & Johnson Baby Powder
---
$32,800,000 Mesothelioma Verdict for Former Machinist
---
$29,500,000 Mesothelioma Verdict for User of Johnson & Johnson Baby Powder
---
$27,342,500 Mesothelioma Trial Verdict for Former Wife of Insulator
---
$22,170,000 Mesothelioma Trial Verdict for the Family of a Deceased Paint-Maker
---
$20,500,000 Verdict for Pipe Manufacturing Plant Worker
---
$20,000,000 Verdict for Woman Exposed to Asbestos in Her Own Family Home
---
$17,400,000 Two-Phase Verdict for Heavy Duty Vehicle Parts Man
---
$12,000,000 Verdict in Colgate, J&J Trial for Lifelong User of Talc Powder Products
---
$11,500,000 Verdict for Construction Project Estimator
---
Mesothelioma Trial: $11,000,000 Wrongful Death Verdict Reached for Automotive Parts Man with Mesothelioma
---
$10,038,000 Verdict for Welder
---
$10,000,000 Mesothelioma Verdict for Former Pipe Installer Affirmed on Appeal
---
$6,951,000 Mesothelioma Verdict for Boilermaker
---
$6,825,000 Verdict for Career Auto Mechanic
---
$6,500,000 Verdict to Woman for Childhood Household Asbestos Exposure
---
$5,482,047 Verdict for Machinist
---
$5,437,882 Asbestos Verdict for Leadership Trainer
---
$4,055,000 Verdict for Automobile Serviceman
Since 1997, the "Lead Counsel Verified" status has been granted to attorneys who possess:

The Right Professional Experience
A Spotless Record
The following attorneys at this firm are Lead Counsel Verified:
Steven Kazan
This attorney is Lead Counsel Verified in the following practice areas:
| Practice Area | Year |
| --- | --- |
| Personal Injury | Since 2010 |
| Practice Area | Year |
| --- | --- |
| Personal Injury | Since 2010 |
For Attorneys:
Download Lead Counsel Badge