No Recovery, No Fee… Get Paid for Your Serious Injuries!
If you or a loved one have been injured in an auto accident, bicycle accident, or any other type of accident, it is important you seek a personal injury attorney who knows the law and will keep your best interest in mind at all times.
The Law Office of Vahdat & Aboudi, APLC was built upon the foundations of family, dedication, hard work, and experience. Our Los Angeles Personal Injury Lawyers strive to protect and fight for our clients' rights and obtain the maximum compensation for our injured clients. We understand and know too well, that often times injured victims are bullied, pressured, or intimidated into settling for less than they deserve. That's where Vahdat & Aboudi, APLC comes in. You don't pay us a dollar until we finish fighting for your compensation.
We know how tiring and overwhelming it can be it to deal with insurance adjusters who want to settle claims for the least amount possible. Our team's goal at Vahdat & Aboudi, APLC is to not only protect our clients' rights but to ensure that they get the medical attention they need and the settlements and verdicts they rightfully deserve to facilitate your recovery. Our hard work and dedication have led to our success and our experience with Los Angeles personal injury cases drives the results our clients are seeking.
Contact the Law Offices of Vahdat & Aboudi, ALC today if you need legal assistance with any of the following Personal Injury matters:
Animal & Dog Bite
Auto/Truck Accidents
Back and Neck Injury
Brain Injury
Burn Injuries
Bus Accidents
Catastrophic/Serious Injury
Construction Accidents
Motor Vehicle Accidents
Motorcycle Accident
Premises Liability
Rail Road Injuries
Rollover Accident
Slip & Fall/Trip & Fall
Spinal Cord Injury
Spinal Injuries
Wrongful Death
Call the Law Offices of Vahdat & Aboudi today at 888-682-5318 to arrange your free initial consultation. They have the experience and knowledge to help you receive the compensation you deserve!
We handle Personal Injury Claims though out the State of California.
Here is a list of some of cities in California we have represented client from
Anaheim, Arcadia, Bakersfield, Beverly Hills, Burbank, Calabasas, Chino, City of Industry, Claremont, Costa Mesa, Covina, Culver City, Gardena, Encino, Fresno, Glendale, Hermosa Beach, Hollywood, Irvine, Los Angeles, Long Beach, Malibu, Manhattan Beach, Mission Hills, Modesto, Monterey Park, Newport Beach, Northridge, Oakland, Orange County, Pacific Palisades, Palm Springs, Pasadena, Pomona, Reseda, Riverside, Sacramento, San Bernardino, San Diego, Santa Ana, Santa Barbara, Santa Monica, San Fernando Valley, San Francisco, San Jose, Santa Rosa, Santa Clarita, Sherman Oaks, Studio City, Sunset Beach, Tarzana, Temple City, Van Nuys, Ventura, Westwood, Woodland Hills and many more…
Attorney Ghazal Amy Vahdat
Ghazal Amy Vahdat graduated magna cum laude from University of California Los Angeles, with a Bachelor of Arts in Political Science and Education. She earned a Certificate in Dispute Resolution and a Juris Doctorate degree from Loyola Law School in Los Angeles California, where she served as an advocate of women's right and graduated in the top third of her class.
While attending law school, Ms. Vahdat served as a law clerk for the Los Angeles District Attorney's office, Target Crimes Division. After being admitted to practice law before all California State Courts, including U.S. District Court and Central District of California, she acknowledged her passion of wanting to help people in need thereby opening up the doors to the Law Offices of Vahdat & Associate.
As one of founders and managing partner of Vahdat & Aboudi, a Los Angeles Plaintiffs Personal Injury Firm, Ms. Vahdat made it her goal to focus on helping severely injured victims. Ms. Vahdat's interest in law developed at a younger age, when her family was forced into exile from her home country of Iran.
During their long journey and escape from their home country to the United States, Ms. Vahdat, pledged to help other individuals who are in need but don't have a voice to protect their own legal rights. Ms. Vahdat distinguishes her legal practice from other firms by providing personal attention to each of her clients and helping them get the full monetary compensation they deserve for their injuries and damages they have sustained.
---
Attorney Sayan Aboudi
Sayan Aboudi pursued a career in the field of law, focusing on personal injury. His passion to help those who are in need of an advocate started at a young age, when he witnessed the forced exile of his family by the Iranian government. He pledged that he would dedicate his life to helping those who are unable to advocate for themselves. Treating every client with the same care, knowledge, and attention they deserve, to achieve optimal results. He is a managing partner and founder of V&A, a leading and highly respected personal injury firm in the San Fernando Valley.
He handles various types of cases including, car accident, motorcycle accident, pedestrian accident, 18-wheeler big-rig accident, traumatic brain injury, slip & fall accident, truck accident, wrongful death, sexual assault case and catastrophic injury cases in addition to other serious accidents.
He continues his professional career by continuing to expand his legal knowledge and skills, and remains on the cutting edge of personal injury legal developments through memberships in valuable groups such as Consumer Attorneys Association of Los Angeles, Consumer Attorney of California, Los Angeles County Bar Association, and many more. Set up a free consultation with Attorney Aboudi today!
Jurisdiction:
California
U.S. District Court Southern District of California
U.S. Supreme Court
Education:
Abraham Lincoln University School of Law
Professional Memberships:
State Bar of California
Consumer Attorneys Association of Los Angeles
Consumer Attorneys of California
Los Angeles County Bar Association
Honors & Awards:
Rising Star - Super Lawyers - 2020
Top 10 Under 40 - National Academy Of Personal Injury Attorneys - 2020
National Association of Distinguished Counsel - 2020
Top 100 Personal Injury Attorneys - America's Top 100 Attorneys - 2020
Top 10 Attorney Under 40 - National Academy Of Personal Injury Attorneys - 2019
Premier Attorneys of America - Premier Attorneys of America - 2019
Lead Counsel Rated - Lead Counsel - 2019
Personal Injury 10 Best Attorney California - American Institute of Personal Injury Attorneys - 2019
NADC Fellow - National Association of Distinguished Counsel – 2019
Top 100 ­- American Academy of Attorneys ­- 2019
Lawyers of Distinction - Lawyers of Distinction - 2019
Elite Advocate - American Institute of Legal Advocates - 2019
Lawyers of Distinction - Lawyers of Distinction - 2018
Languages:
English
Spanish
Farsi
Kurdish
$2.8 million recovered for Motorcycle vs. Auto (Federal Claim).
---
$2.5 million recovered for Class Action.
---
$2.25 million recovered for Auto vs. Auto.
---
$1.75 million recovered for Product Defect.
---
$1.25 million recovered for General Claim
---
$1.2 million recovered for Wage Dispute.
---
$1.2 million recovered for Premises Liability.
---
$1.0 million recovered for Truck vs. Truck.
---
$1.0 million recovered for City Claim.
"So I had this case with this other attorney and they where offer me like 5k on the settlement of my claim I brought my cad ego this firm And they got me my policy limit of the defendant insurance I would recommend to everyone not just family" David S.
---
"I got hit at an intersection in a residential area and the other party didn't have insurance, and failed to stop at their stop sign. Sayan & his entire team made what was supposed to be a miserable and dreaded process extremely easy and comfortable. They guided me through every step: getting my car fixed, seeking medical care for my back pain, and everything in between. Highly recommend Vahdat & Aboudi for any personal injury case. They will put blood, sweat and tears in to helping you get recovery. Thank you so much to the staff for everything!" Charlene Y.
---
"Sayan and his team at V&A are amazing, knowledge, hardworking and respectful, they worked hard to get my accident liability cleared, they got my car fixed fast and made this process as simple as I could have expected it to be. Highly recommend them to anyone looking for a experienced personal injury firm" Sam C.
---
"Wow! What an amazing law firm! I am based in Northern California but so happy to be working and connecting with them through the distance and on the phone. Very professional and Very sweet. I spoke to Heather, Brenda, and Alex on the phone a few times and I'm so impressed with how organized they are and they communicate well with their own team to get things going smoothly. Also, they all have fun and nice personalities that keeps you wanting to talk to them as if you were friends and clients forever! Love the energy they give out. My Doctor and I would 10/10 recommend this law firm to anyone that needs great support for personal injuries." Julie N.
Since 1997, the "Lead Counsel Verified" status has been granted to attorneys who possess:

The Right Professional Experience
A Spotless Record
The following attorneys at this firm are Lead Counsel Verified: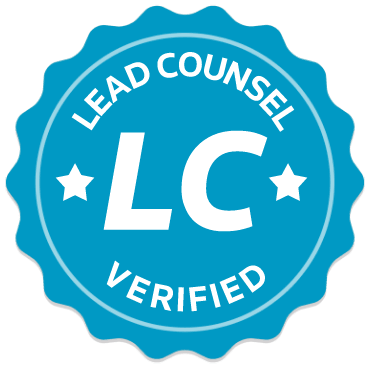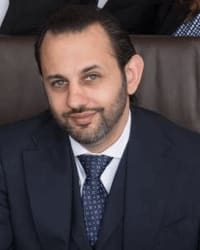 Sayan Aboudi
This attorney is Lead Counsel Verified in the following practice areas:
| Practice Area | Year |
| --- | --- |
| Personal Injury | Since 2019 |
| Practice Area | Year |
| --- | --- |
| Personal Injury | Since 2019 |
For Attorneys:
Download Lead Counsel Badge