« Back to Results
Joshua P. Friedman & Associates, Inc.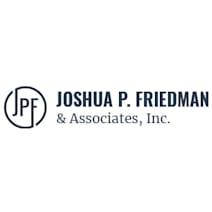 Debt Collection | Serving Calabasas, CA
Clients who need legal help with Debt Collection concerns can contact Joshua P. Friedman & Associates, Inc., a reputable law firm in Calabasas, California.
Average Experience:
22 years
We Do Not Stop Until We Succeed
Our education, our experience and our hard-earned track record of success set us apart from the pack. At Joshua P. Friedman & Associates, Inc., our firm uses aggressive, strategic techniques that get results. We don't waste time. We know where debtors are most sensitive and we go after their weak spots. By applying the right strategies in the correct manner, we make debtors pay. We have a long track record of success and a trail of satisfied customers. We can help you.
For nearly two decades, we have represented consumers and businesses throughout the country. When you hire us, you're putting a tough attorney on your side who has proved time and time again that he knows how to hunt down avoidant debtors. We have seen it all. We can speak to any question or concern you have.
Contact us today if you need legal assistance with any of the following:
Collections
Judgment Enforcement
Commercial Debt Collections
Consumer Debt Collections
Enforcing Labor Board Awards
Attorney Fee Disputes
Call at 310-278-8600 to arrange your free initial consultation.
Attorney Joshua P. Friedman
Bar Admissions:
Professional Memberships and Achievements:
California Association of Judgment Professionals (President Emeritus)
California Creditors Bar Association, 2015 - 2019 (Board Member)
Education:
Loyola Law School, Los Angeles, California, 2001
University of Pennsylvania, Philadelphia, Pennsylvania, 1995

B.A.
Major: Political Science
"Joshua P. Friedman & Associates, Inc. has provided us with excellent service for several years now. We have been ecstatic with his success, availability and willingness to go the extra mile to assist us with all of our needs. We wouldn't be where we are at as a company without his efforts."
Steven Wagner, President, Health Media Concepts, Inc.
---
"My firm hired Joshua to assist us in collecting a debt from a former client. He successfully obtained a satisfactory settlement of our debt at a reasonable rate."
Laurie Murphy, Partner, Valensi Rose, PLC
---
"I have worked with [ for more than five years now. I have found him to be proactive in attempting to collect the outstanding debts for the cases I have referred to him; he has successfully handled many cases for us. Once he has confirmed a payment amount with the debtor, prepares all the legal paperwork to finalize the payment and any needed notification to the court. All I have to do is receive the payment, which I appreciate. I look forward to working with on future cases."
Brenda Kinard, Director – Legal Collections, Kimco Realty Corporation (NYSE: KIM), member of S&P 500
---
"Josh Friedman is an indispensable business partner. Over the last three years, he has prevailed in every collections matter. And I mean it!"
Michael A. Ponce de Leon, President/CEO, TELLIGENT Software, LLC. | CompanyROCKET.com | TEKNICA itg, LLC.
---
"This letter is to praise for the performance he provides. Beverly Hills Properties continues to be satisfied with his services. is dedicated and professional, whose knowledge, diligence and commitment is a definite asset to our company. It is with great appreciation that Beverly Hills Properties recommends ."
Beverly Hills Properties (own approximately 5,000 residential apartment units in Los Angeles area)