« Back to Results
Law Office of Aman N. Shah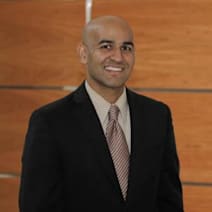 Car Accidents Can Be Life-Changing.
Let Us Help You with the Aftermath.
They happen every day, by the thousands. One motor vehicle collides with another, and the people unfortunate enough to be in those vehicles are injured. Car accidents are so ubiquitous that we accept them as a fundamental aspect of life. While that just may be the way things are, in the wake of a car accident, no one should just accept the consequences.
At the very least, your car accident will leave your property in a damaged state. At worst, your car accident will leave both your vehicle and your body broken. At The Law Office of Aman N. Shah, we have extensive experience with car accident cases and can help people who were in an accident with both sides — the property damage and the bodily injury — of their case.
Contact the The Law Office of Aman N. Shah today if you need legal assistance with any of the following:
Automobile Accidents
Multi-Car Collisions
Whiplash Injuries
T-Bone Collisions
Rear-End Collisions
Hit & Run Accidents
Uninsured & Underinsured Motorist Collisions
Head-On Collisions
Drunk Driving Collisions
Motorcycle Accidents
Personal Injury
Catastrophic Injuries
Soft Tissue Injuries
Premises Liability
Slip And Fall Injuries
Animal Attack Injuries
Product Defect Injuries
Toxic Torts
Medical Malpractice
Wrongful Death
Immediately after a car accident, you should call the police and take photos of the accident scene. Don't accept any deal that other drivers may try to throw together in the chaos of that moment. Accept the medical care that is offered to you and then get ready for the days and weeks that follow.
The best way to prepare yourself is to have an attorney by your side, and at The Law Office of Aman N. Shah, we will talk you through the intricacies of your case and let you know where you stand going forward. We'll treat you fairly and honestly, and do everything we can to make your case a success. Call The Law Office of Aman N. Shah today at 714-694-8160 to arrange your free initial consultation.
Attorney Aman N. Shah
Bar Admissions:
Education:
Pepperdine University School of Law, Malibu, California

J.D. - 2005
Honors: Certificate in Dispute Resolution

University of California, Berkeley, California

B.A. - 2002
Major: Legal Studies