« Back to Results
Wesley Rhodes, Attorney at Law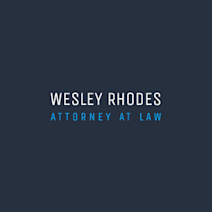 Criminal Defense | Serving Little Rock, AR
Need help with Criminal Defense in Arkansas? Wesley Rhodes, Attorney at Law helps clients in the Little Rock area.
Average Experience:
6 years
Defending Your Rights. Protecting Your Future.
From the moment of arrest, it is clear that criminal charges have consequences. You may be facing steep fines, jail time, loss of driving privileges and even the loss of your job. This is in addition to public embarrassment and a diminished reputation in your community.
From DWI, Traffic, Domestic Battery to Drug Possession charges, I can help you with a variety of legal issues including the most serious criminal charges. Being accused of committing a crime and facing time in jail is scary and can cause many disruptions to your life. Let me use my experience in Arkansas Criminal Law to help you.
Your future is important to you, and it should be just as important to your attorney. When you contact Wesley Rhodes, Attorney at Law, you can be sure that you're working with an experienced criminal defense attorney who will fight for the best possible resolution to your criminal charges.
Contact us today if you need legal assistance with any of the following:
DWI/DUI and Driving-Related Offenses
What To Know About DWI License Suspension
Potential Consequences of a DWI Conviction
Resolving Traffic Tickets
Violent Crimes
Drug Offenses
Property Crimes
Wesley Rhodes, Attorney at Law, is based in Little Rock, AR and serves clients throughout Arkansas. To take advantage of a free and confidential consultation with an experienced criminal defense lawyer, call 501-920-5459 today.
Attorney Wesley Rhodes
Bar Admissions:
Education:
University of Arkansas at Little Rock School of Law, Little Rock, Arkansas
University of Arkansas, Fayetteville, Arkansas

B.S. - May, 2013
Major: Criminal Justice
Honors and Awards: 
Governor's Distinguished Scholarship
Chancellor's Scholarship
William H. Bowen Scholarship