Dodds, Kidd, Ryan & Rowan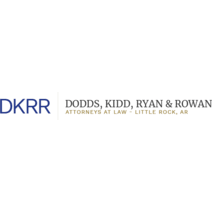 Personal Injury | Serving Little Rock, AR
Dodds, Kidd, Ryan & Rowan helps clients in the Little Rock area with their Arkansas Personal Injury needs.
Average Experience:
35 years
Personalized Service From An Experienced Legal Team
Complex legal matters can involve significant stress and complications. It is important to know that you will not be lost in the shuffle or handed off to an inexperienced associate when you need legal answers. At Dodds, Kidd, Ryan & Rowan in Little Rock, Arkansas, we know how to advocate for your rights and interests. Attorneys from our legal team are members of the American College of Trial Lawyers, the American Board of Trial Advocates, the American Association for Justice, the Arkansas Association of Criminal Defense Lawyers and other organizations.
Contact us today if you need legal assistance with any of the following:
Divorce & Family Law
Personal Injury
Criminal Defense
Social Security
Appeals
Medical Malpractice
Call 501-943-1409 today to arrange your free initial consultation.
Attorney Judson C. Kidd
Bar Admissions:
Education:
University of Arkansas, Fayetteville, Leflar Law Center, Fayetteville, Arkansas

Hendrix College

Professional Memberships and Achievements:
American College of Trial Lawyers, Fellow
American Board of Trial Advocates, Member
Pulaski County, Arkansas and American Bar Associations, Member
American Association for Justice, Member
Arkansas Trial Lawyers Association, Member
Arkansas Supreme Court Special Justice
---
Attorney Lucas Z. Rowan
Bar Admissions:
Bar Name, Year Admitted One
Bar Name, Year Admitted Two
Education:
University of Arkansas at Little Rock School of Law, Little Rock, Arkansas

University of Central Arkansas

University of Central Arkansas

Professional Memberships and Achievements:
Pulaski County Bar Associations, Member
Arkansas Bar Associations, Member
American Bar Associations, Member
---
Attorney Price Feland
Bar Admissions:
Education:
William H. Bowen School of Law, Little Rock, Arkansas

George Washington University, School of Business

University of Arkansas, Sam M. Walton College of Business

---
Attorney Catherine A. Ryan
Bar Admissions:
Massachusetts, 2002
U.S. District Court District of Massachusetts, 2004
U.S. Court of Appeals 1st Circuit, 2007
Arkansas, 2016
U.S. District Court Eastern District of Arkansas, 2016
Education:
University of Georgia School of Law, Athens, Georgia

University of New Hampshire

---
Attorney David W. Parker
Bar Admissions:
Education:
UALR William H. Bowen School of Law, Little Rock, Arkansas

University of Arkansas at Fayetteville, Fayetteville, Arkansas


B.S. Applied Mathematics - 2001