« Back to Results
Nuñez Law Firm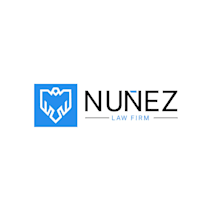 Personal Injury | Serving Phoenix, AZ
Need representation for your Personal Injury issues? Nuñez Law Firm offers local assistance in Phoenix, Arizona.
Average Experience:
6 years
First-Class Legal Representation
We engage and educate our clients about their rights; meticulously research their cases and develop the best legal and non-legal strategies; and stand in solidarity with them throughout our representation, from start to finish.
Our team is dedicated to providing you with first-class service, which means you always have direct access to your attorney with a guaranteed response time of six working hours. Our attorneys can assist you with the scope of your immigration law needs, from gaining citizenship to deportation matters, and everything in between. We also cover the spectrum of personal injury law, from motor vehicle accidents to on-the-job injuries and workers' compensation claims.
Not only do we understand and explain the laws and legal rights to our clients, but we also counsel them on the likely outcomes and possible consequences for their businesses, relationships, reputations, and families.
Contact us today if you need legal assistance with any of the following: 
Criminal Defense
Personal Injury
Immigration Law
Workers' Compensation
Call 602-500-0000 today to arrange your free initial consultation. 
Attorney Josh Nuñez

Josh Nuñez is a proud father of two boys, Bentley and Jett. He is married to his college sweetheart Vanessa Costilla, a Gastroenterologist.
Josh is a graduate from Texas Tech University where he received degrees in both biochemistry and mathematics and a minor in biology. He attended the Texas Tech School of Law for a brief period and graduated from the Phoenix School of Law where he served as an executive board member of the prestigious Phoenix Law Review.
Josh founded the Nuñez Law Firm in 2013 to serve the needs of the Spanish speaking community in Arizona in areas of injury law, the workers' compensation system, immigration law, and as a criminal defense attorney.
Josh has served on various nonprofit boards, including Unlimited Potential, Center for Neighborhood Leadership, the Colten Cowell Foundation, and the One Community Advisory Board.
Josh is an avid fan of the following sports teams: the San Francisco 49ers, the Texas Tech Red Raiders, and the Mexico National Soccer Team.
---
Attorney Jason Forcier
Before studying the law, Jason honorably served for 11 years in the U.S. Army, as a paratrooper and air traffic controller. He also served in two combat tours, one in 1998, and again in 2003.
Jason holds a Bachelor of Science in Business Finance, from the University of Phoenix. He also graduated, cum laude, from Arizona Summit Law School, where he served on Law Review, as the Executive Managing Editor. Jason is also a certified airman, holding FAA licenses as a commercial pilot, instructor, aircraft dispatcher, and air traffic control specialist.
Jason is licensed to practice law throughout Arizona, as well as, in the Federal District Court for the State of Arizona, Immigration Court, and before the Social Security Administration at the Office of Disability Adjudication and Review.
Jason's passion for serving immigrants stems from his time in the Army, when one of his soldiers, who Jason recommended for the Bronze Star, was forced out of the Army because she was unable to complete the naturalization process in time. He has also lived overseas for a number of years, working abroad in both Europe and Southeast Asia. As a result of his experiences, Jason became an advocate for immigration rights and passionate about immigration law.
---
Attorney Alfonso H. Leon
Alfonso is one of the few dual attorneys in this country, with an active license to practice the law in the State of Arizona and all the jurisdictions in Mexico.
Alfonso started his legal education in Mexico, where he holds a Law Degree and a Master's Degree in Tax Law from two very prestigious private universities. Later, he decided to further his education and completed the J.D. with the Advanced Standing Program at the Sandra Day O'Connor College of Law, ASU.
Alfonso is originally from Mexico City, where he spent the majority of his life until he decided to immigrate to the U.S. a few years ago, making Arizona his second home.
He is married to his beautiful wife, Isabel, and together they are raising 3 children –a set of twin girls and a boy — who love spending time together, especially playing in the pool during summer.
---
Attorney Salvador Macias
Salvador Macias is a criminal defense and immigration lawyer at the Nunez Law Firm. Born in Aguascalientes, Mexico, and raised in Phoenix, Arizona. He graduated from Arizona State University with a B.A. in Political Science, a B.A. in Transborder Chicano/a Latino/a Studies, a minor in Spanish, and obtained his Juris Doctor.
Being a DACA recipient himself provides Salvador with a unique and personal perspective on immigration law. Growing up, he saw his dad work a construction job in the morning and at a restaurant in the evenings while his mom cleaned offices, all while navigating the immigration system themselves. While helping his mom clean offices he told himself, "One day I'll have an office like this one."
Clients walking into Salvador's office are treated like family. He sees them more as a tio or abuelita looking to improve their immigration status. He knows their journey and his passion for service to others is unparalleled. Salvador prides himself in providing the best service possible. He listens intently to each person's struggle and their pursuit of the American Dream and then he walks them step by step to how the law as written directly affects their situation. His honesty gives his clients a complete picture of the process and the steps they'll pursue through his services to accomplish their goals.