Gardberg & Kemmerly, P.C. Attorneys at Law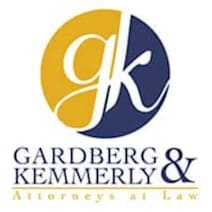 Social Security Disability | Serving Mobile, AL
Assisting people in Mobile with their Alabama Social Security Disability issues.
Average Experience:
13 years
Disability Solutions for You and Your Family
Our firm has experienced lawyers who will fight for you. For more than fifty years, our firm has fought for the rights of accident victims, the injured, and the disabled.
The attorneys of Gardberg & Kemmerly, P.C. Attorneys at Law, have focused their practice and resources on helping claimants obtain maximum benefits for disability and personal injury claims.
At Gardberg & Kemmerly, P.C. Attorneys at Law, an attorney will explain your rights and fight for you every step of the way. Even if you have been denied several times and your case has been rejected by other lawyers, we want to help.
Contact us today if you need legal assistance with any of the following: 
Social Security Disability
Supplemental Security Income
Veterans Disability Benefits
Burn Injuries
Medical Malpractice
Premises Liability — Injuries on Someone Else's Property
Auto and Truck Accident Injuries
Defective Medical Products
Workers Compensation
Personal Injury Overview
IUD's And Complications
Call 251-243-7872 today to arrange your free initial consultation. 
Attorney Jonathan P. Gardberg
Bar Admissions:
Alabama, 1973
U.S. District Court Southern District of Alabama, 1973
U.S. Court of Appeals 5th Circuit, 1973
U.S. Court of Appeals 11th Circuit, 1993
Education:
The University of Alabama School of Law, Tuscaloosa, Alabama


J.D. - 1973
Honors: Bench and Bar Legal Honor Society

Emory University, Atlanta, Georgia


B.A.
Honors: Dean's List
Major: Economics
Professional Memberships and Achievements:
Alabama Bar Association
Mobile Association
American Bar Association
National Organization of Social Security Claim Representative
---
Attorney Colin Edward Kemmerly
Bar Admissions:
Louisiana, 1989
Alabama, 1996
U.S. District Court Southern District of Alabama, 1996
U.S. District Court Eastern District of Louisiana, 2008
U.S. Court of Appeals 11th Circuit, 1996
U.S. Court of Appeals for Veterans Claims, 1999
Education:
Loyola University New Orleans School of Law, New Orleans, Louisiana

Spring Hill College, Mobile, Alabama


B.A. - 1986
Major: History
Professional Memberships and Achievements:
Court of Appeals for Veterans Claims Bar Association, 2008 to 2008
Louisiana State Bar Association, 1989 to 2009
Alabama State Bar Association, 1996 to 2009
Mobile Bar Association, 1996
---
Attorney Ashley Brooke Thomas
Bar Admissions:
Alabama, 2007
Florida, 2009
U.S. District Court Southern District of Alabama, 2009
Mississippi, 2009
Education:
The University of Alabama School of Law, Tuscaloosa, Alabama

University of Alabama, Tuscaloosa, Alabama


B.A. - 2004
Honors: summa cum laude
Honors: Phi Beta Kappa
Major: Classics
Professional Memberships and Achievements:
Mobile Bar Association, 2008
---
Attorney Ann Winslow Rouse
Bar Admissions:
Education:
The University of Alabama School of Law, Tuscaloosa, Alabama

Spring Hill College, Mobile, Alabama

2011
Honors: magna cum laude
Major: Finance
Major: Economics
Professional Memberships and Achievements:
Mobile Bar Association , 2014 to Present
---
Attorney Nathan Guin
Bar Admissions:
Alabama, 2015
U.S. District Court Southern District of Alabama, 2016
Education:
Cumberland School of Law, Samford University, Birmingham, Alabama

Furman University, Greenville, South Carolina


B.A. - 2012
Major: Political Science
Professional Memberships and Achievements:
Alabama State Bar
Mobile Bar Association
National Organization of Veterans Advocates
---
Attorney Laura E. Holland
Bar Admissions:
Alabama, 2010
U.S. District Court Southern District of Alabama, 2016
Education:
The University of Alabama School of Law, Tuscaloosa, Alabama

Auburn University , Auburn, Alabama

Professional Memberships and Achievements:
Alabama State Bar
Mobile Bar Association
Mobile Young Lawyers – Executive Committee Member
Mobile Women Lawyers
---
Attorney Jennifer Byrd
Bar Admissions:
Alabama, 2006
U.S. District Court Southern District of Alabama, 2019
U.S. Court of Veterans Appeals, 2019
Education:
Faulkner University, Jones School of Law, Montgomery, Alabama

University of Mobile

Professional Memberships and Achievements:
National Organization of Veterans Advocates, Member, 2019 to Present
State of Alabama Bar Association, Member, 2006 to Present
Mobile Bar Association, Member, 2016 to Present
---
Attorney Ryan Seanor
Bar Admissions:
Alabama, 2015
U.S. District Court Southern District of Alabama, 2018
U.S. Court of Veterans Appeals, 2019
Education:
Phoenix School of Law, Phoenix, Arizona

Southern Miss, Hattiesburg, Mississippi

Professional Memberships and Achievements:
National Organization of Veterans Advocates, Member, 2019 to Present
Mobile County Bar Association, Member, 2019 to Present
---
Attorney Lewis Carter
Bar Admissions:
Alabama, 2018
U.S. District Court Southern District of Alabama, 2019
Education:
Savannah Law School, Savannah, Georgia

University of West Florida, Pensacola, Florida


B.A. - 2010
Major: Arts in History
Professional Memberships and Achievements:
Mobile Bar Association, 2018
State of Alabama Bar Association, 2018
---
Attorney Gregory A. Eldridge
Bar Admissions:
Alabama, 2011
U.S. District Court Southern District of Alabama, 2020
Education:
Faulkner University, Jones School of Law, Montgomery, Alabama

University of Maryland UC, Adelphi, Maryland


B.S. - 2004
Major: Business Administration
Professional Memberships and Achievements:
Mobile Bar Association, 2011 to Present
Alabama Bar Association, 2011 to Present